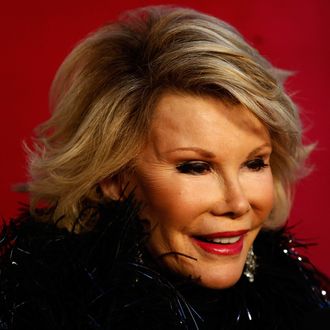 Photo: Brendon Thorne/Getty Images
It's been nearly two weeks since Joan Rivers stopped breathing and went into cardiac arrest while receiving medical treatment at Yorkville Endoscopy, complications that eventually led to her death on September 4. A New York Health Department investigation of Yorkville, which hasn't been accused of any wrongdoing, has been under way for days, but the public still doesn't really know what happened to the beloved comedian. This isn't for lack of trying by the media, which has been having a perhaps unsurprising amount of trouble getting answers out of the outpatient clinic. 
First of all, the exact procedure Rivers was undergoing remains unclear. Given Yorkville's speciality and reports that Rivers's vocal cords had been bothering her, doctors who spoke to the New York Times have guessed that she was having an endoscopy, a minor diagnostic procedure that involves putting a tube equipped with a light and tiny camera down the patient's throat. (Rivers's friends have also said that they believe she went in for an endoscopy.) But, on Tuesday night, a New York Daily News source claimed that Yorkville's staff had allowed Rivers's personal doctor to do an "unplanned biopsy" of her vocal cords:
The Aug. 28 biopsy at Yorkville Endoscopy, an E. 93rd St. clinic that usually only deals with digestive issues, caused Rivers' vocal chords [sic] to seize — a condition doctors call a laryngospasm — cutting off her air supply, the source said.

"A biopsy like that should only be done in a hospital setting," the source said.

"If she had been in a hospital when it happened, she might have been okay," the source said.

He asked and they let him," the source said. "A huge no-no."
On Wednesday, Yorkville denied the Daily News' report. Citing confidentiality laws, the clinic didn't mention Rivers by name, but a representative insisted that "a biopsy of the vocal cords" has never been performed there. The clinic also rejected the Daily News' claim that Rivers had been under general anesthesia during her visit. "General anesthesia has never been administered at Yorkville Endoscopy. The type of sedation used at Yorkville Endoscopy is monitored anesthesia care. Our anesthesiologists utilize light to moderate sedation," said a statement. 
Meanwhile, the Times tried to determine whether Yorkville had responded appropriately after Rivers stopped breathing. An FDNY source described what emergency responders found when they arrived at the facility: 
A defibrillator had been hooked up to [Rivers] and a breathing tube had been placed in her windpipe by the clinic staff, the officials said. She was receiving medications and CPR in an attempt to revive her. Firefighters took over from the clinic staff and started to provide CPR.
Experts who spoke to the paper said that intubating (the technical term for inserting a breathing tube) into someone's throat during an emergency "can be difficult," and that "most doctors" lacked the skill to do it correctly. "It is something you need to practice and do or you lose it," explained former Bellevue medical director Eric Manheimer. It's not clear how long Rivers went without oxygen.
As for what could have caused her to stop breathing to begin with: Manheimer mentioned "underlying heart disease, reactions to drugs, the anesthesia, blood pressure changes" as possibilities. "The key is prescreening and equipment to manage a potential catastrophe." Again, without specifically mentioning Rivers, a Yorkville spokeswoman told the Times that its policies included the pre-screening of patients, as well as intubating them if and when something goes wrong. 
In a separate statement, Yorville's Dr. Daniel Adler, "We would love to set the record straight from all the misinformation that's out there. Unfortunately, our lips are sealed." It's up to Rivers's daughter, Melissa, to give the clinic permission to comment on the details of her mother's final visit there, but we can think of a few reasons why she may not have gotten around to it.