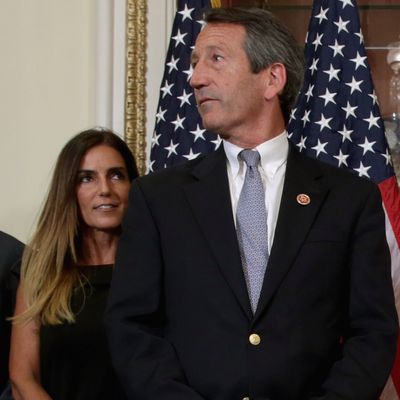 Photo: Chip Somodevilla/2013 Getty Images
On Friday afternoon, South Carolina congressman and oversharer Mark Sanford published a long, long Facebook post complaining about his ex-wife, Jenny Sanford, and announcing that he had broken up with fiancée Maria Belen Chapur. (Just in case you have forgotten the details of this soap opera: Chapur is the Argentinian woman for whom Mark left Jenny — and the governorship of South Carolina — in 2009.) In the Facebook post, Mark blamed the demise of his relationship with Chapur on "tension" created by his legal issues with Jenny. But, on Saturday, Chapur said that was a load of crap. 
In an interview with the New York Times, Chapur said that despite very publicly calling her his "soul mate," Mark had been reluctant to marry her, supposedly because he wanted to wait until his youngest child had turned 18 and he no longer had to battle Jenny over custody. Still, she tried to get him to commit after a recent trip to Paris: 
"We had a great time here, we were like in a honeymoon," she said. "I thought that he might tell me, 'O.K., let's put a date, end of 2015.' But that didn't happen. That's why I wrote to him, 'I had a spectacular week, you know I love you, but I don't want to continue in the category of mistress, and if we continue like this I continue in that category, and I can't bear it anymore. It has been really painful to me.' "

She continued, "His response was, '24 months. If not I'll say goodbye and I will look for you in 24 months.' "
According to Chapur, she asked Sanford to keep their breakup private, but he posted about it on Facebook anyway. She also suggested that Jenny wasn't really the reason things didn't work out. "I think that I was not useful to him anymore — he made the engagement thing four months before the elections," she said. "So this is not about his son, this is about his career and his ambitions." We guess it's no surprise that a middle-age guy who disappeared from his job and family for nearly a week so he could follow his heart down the Appalachian Trail turned out to be pretty self-centered.