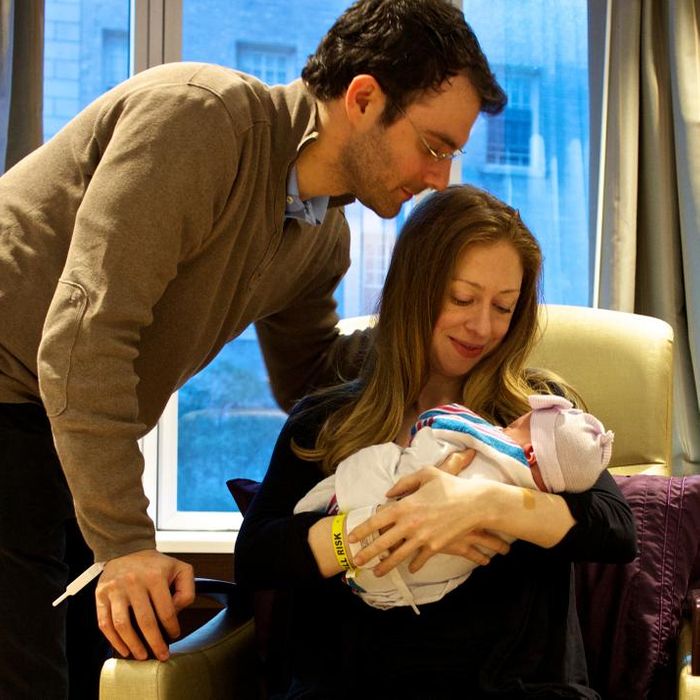 Photo: Jon Davidson/Office of President Clinton
It's a big day in America! Just after midnight on Saturday, we learned of the birth of Chelsea Clinton's highly anticipated, potentially election-swinging baby. Despite Politico's suggestion that she name her firstborn Liam, Chelsea and husband Marc Mezvinsky decided to go with "Charlotte Clinton Mezvinksy," because the child is a girl and also because even the most ambitious former (and potential future!) first daughter probably doesn't take naming advice from obsessive beltway publications that seriously.
Little Charlotte entered the world at 7:03 p.m. on Friday, and we assume she was briefed on the state of her grandmother's not-a-campaign-yet shortly after. Chelsea soon personally tweeted the announcement, which was quickly re-tweeted by her parents:
Later, Grandma and Grandpa Clinton put out their own statement: "We are thrilled to be with our daughter and her husband as they welcome their daughter into the world. Chelsea is well and glowing. Marc is bursting with pride. Charlotte's life is off to a good start." And then there's this: 
Has this blessed event turned Hillary pro-life, as Sarah Palin predicted? It's too early to answer that question. The same goes for the countless, equally stupid questions these proud new parents and grandparents will soon be forced to grin through over and over again. Anyway, mazel tov to the Clinton-Mezvinskys! It's never too early to start thinking about 2052. 
This post has been updated throughout.