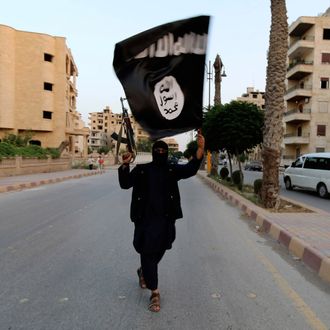 In his speech laying out his four-point plan to destroy ISIS, President Obama declared that he has the "authority" to deal with the threat on his own, but would still appreciate some support from the legislative branch. "I welcome congressional support for this effort in order to show the world that Americans are united in confronting this danger," he explained. Of course, Obama can't win Congress over that easily. While you can usually predict a lawmaker's response from the R or D next to his or her name, when Obama was considering conducting airstrikes in Syria a year ago, we saw some unusual divisions in Congress, with the Republicans split between hawks and isolationists and some antiwar Democrats refusing to support the president. The reactions this time around were just as unpredictable.
THE REPUBLICANS
House Speaker John Boehner said Obama's pledge to take action against ISIS is long overdue, but he has some reservations (of course):
I support the president's plan to train and equip the Iraqi Security Forces and Syrian opposition, but I remain concerned that those measures could take years to fully implement at a time when ISIL's momentum and territorial gains need to be immediately halted and reversed. It is also a cause for concern that the president appears to view the effort against ISIL as an isolated counterterrorism campaign, rather than as what it must be: an all-out effort to destroy an enemy that has declared a holy war against America and the principles for which we stand.
In a joint statement, Senators John McCain and Lindsey Graham were somewhat less critical of Obama (though they said he'll need to do more to destroy ISIS):
While we strongly disagree with President Obama that America is safer today than five years ago, his speech tonight got some key things right. He explained to the American people why we must confront ISIS. He described the correct goal — to degrade and ultimately destroy ISIS. He laid out the elements of a comprehensive strategy to achieve this goal, all of which we have long championed. And he explained the need to hit ISIS wherever it is, although the need to do so in Syria is more urgent than the president conveyed.
Senator Bob Corker, ranking member of the Senate Foreign Relations Committee, said Obama is "exercising poor judgment by not explicitly seeking an authorization from Congress where consensus can be reached around a substantive plan of action and support can be built for an operation that he has described will take several years."
Senator Roy Blunt agreed, saying, "While I believe the president has the authority to respond to this threat under congressional action from 2001, I also believe he could have benefited from coming to Congress with a more specific plan and asking Congress to reaffirm that authority."
Representative Adam Kinzinger said:
I don't care how it's approved, I'll vote for it either way. And I don't understand why some folks are making an issue of it. Maybe there's some politics I don't understand. At the end of the day, we should give the president the authority and money he needs.
On Fox News, Senator Ted Cruz said Obama's remarks were "fundamentally unserious":
… what we didn't see tonight was a commander-in-chief focused on U.S. national security interests who stood up and said there are radical Islamic terrorist who have declared war on the United States who are murdering Christians, who have murdered two American journalists, and who have promised to take jihad to America, and we will respond with overwhelming air force to take them out. Instead he suggested targeted attacks and focuses frankly on political issues that are peripheral from the central question of how we protect America from those who would take jihad to our nation.
Senator Rand Paul also shared his reaction on Fox News (and Twitter, where he created the hashtag #RandResponds). He praised Obama for saying ISIS is "not being Islamic or a true form of true Islam." "Ultimately, civilized Islam will have to step up," he said. "So I think it is important, not only for the American public, but for the world and for the Islamic world, to point out that this is not a true form of Islam, this is an abhorrent form."
But he added that what Obama is doing is "unconstitutional." "This is an intervention, and I don't always support interventions, but this is one I do support," Paul said. "But I think the president would be more powerful, the country would be more united — he should've come before a joint session of Congress, laid out his plan as he did tonight, and then called for an up or down vote."
THE DEMOCRATS
Carl Levin, chairman of the Senate Armed Services Committee, praised Obama for laying out a plan to "act forcefully":
The president tonight laid out a forceful strategy to safeguard our security and that of our allies by rolling back and eventually destroying a brutal extremist group … I support the president's strategy, and I believe a large majority of Congress and the American people will as well.
House Minority Leader Nancy Pelosi called the strategy "concrete and forceful":
I commend the president for his persistent, strong leadership in establishing a government of reconciliation in Iraq, and in his diplomatic efforts to have coordination among of our NATO allies and regional powers.  Working with a broad coalition of partners and without using U.S. combat forces on the ground, we will lead a comprehensive counter-terrorism strategy to dismantle the threat ISIS poses to the region and the United States.
Senator Robert Menendez, chairman of the Senate Foreign Relations Committee, said he believes Obama has the authority to wage a short-term conflict on his own, but "a prolonged military campaign will require a congressionally approved Authorization for Use of Military Force (AUMF)." The White House disagrees, but Menendez said the committee will begin drafting a new AUMF anyway.
Representative Barbara Lee, an anti-war advocate, said, "The Constitution requires Congress to vote on the use of military force. This is not about this president. This is about any president and any Congress."
Senators Mark Udall and Mark Begich, who are both in tough reelection races, said they oppose the president's plan. "I will not give this president — or any other president — a blank check to begin another land war in Iraq," Udall said. "As we have seen in the past, American boots on the ground cannot stamp out an extreme ideology and the Iraqis must take responsibility for defending their own people."
Begich said he's concerned that the U.S. may be arming extremists in Syria, adding that we "can't continue to foot the bill of Middle East conflicts, and the nations in the region need to step up in a meaningful way. After over a decade of costly war, many Alaskans are rightfully wary of putting combat troops on the ground."