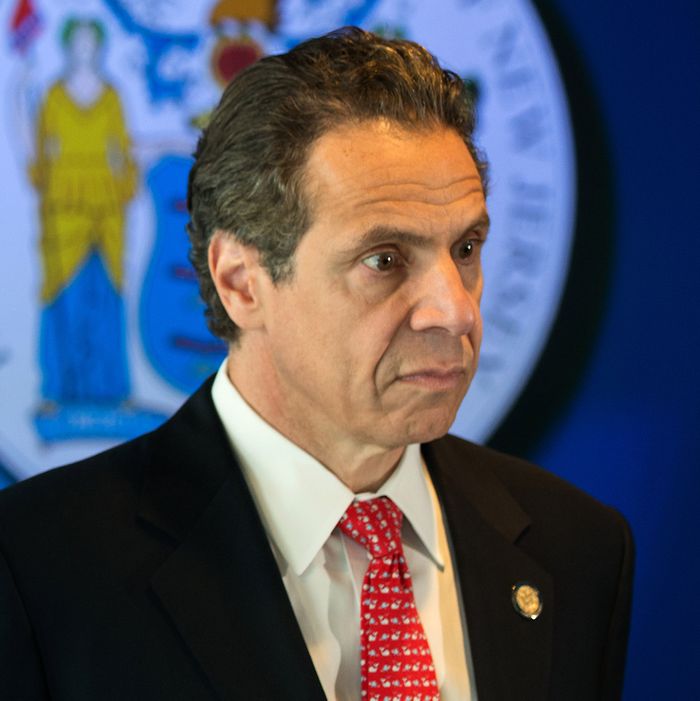 Photo: Bryan Thomas/Getty Images
President Obama was in midtown, laying out his vision for fighting ISIS and other terrorists. Downtown, two governors who wouldn't mind being president someday were talking up their modest moves to protect New Jersey and New York from the possible fallout.
Chris Christie and Andrew Cuomo picked a location whose symbolism was not subtle: A tenth-floor atrium in the offices of Silverstein Properties with panoramic views of ground zero. The governors were flanked by beribboned and bemedaled state troopers. There was much talk of deadlines: 30 days for a report, 100 days for … something. Christie and Cuomo also signed a "memorandum of understanding" promising that their states would cooperate … even more.
For all the ceremony, the immediate, operational substance was a little thin. There will be more dogs and troopers and National Guard patrolling likely targets such as bridges and tunnels, a show of force designed to both scare off bad guys and reassure the citizenry. All of which is good and unfortunately necessary. The govs are right: Waiting for a specific, credible threat only increases the risk.
But the visibility that's being most heightened in all this is Cuomo's. Today's event was the New York governor's third full-dress press conference about terrorism in nine days, which may outnumber his campaign appearances during the same period. The first, inside an office building near Penn Station, co-starred Christie and included guest appearances by Homeland Security secretary Jeh Johnson and Mayor Bill de Blasio; the second, in Cuomo's east side office, featured state legislative leaders Dean Skelos and Sheldon Silver. Christie was back today, along with Port Authority leaders.
Elected officials advertising that they're actually doing their jobs can be a tiresome ritual. Yet today it was also oddly reassuring. Cuomo and Christie can hold as many anti-terrorism events where nothing much happens as they'd like, as long as nothing much happens in the subways and streets.