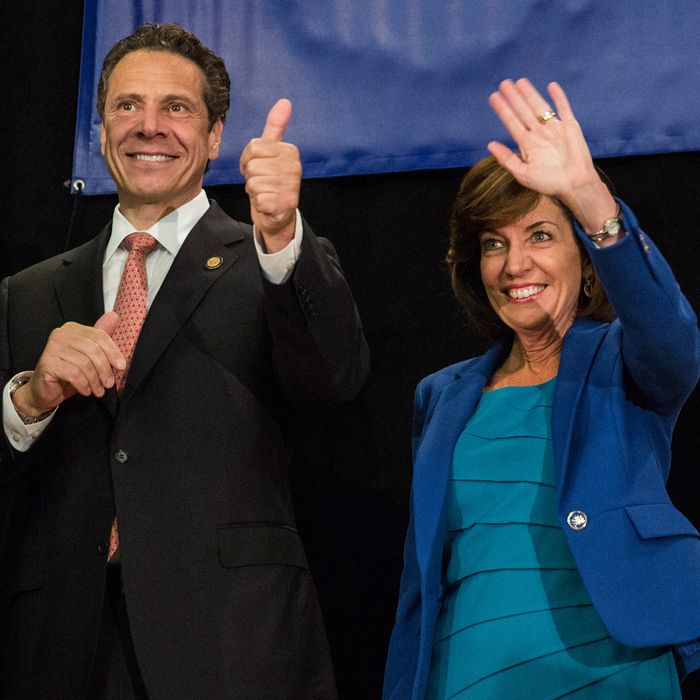 Photo: Andrew Burton/2014 Getty Images
As expected, Governor Andrew Cuomo won New York's Democratic primary on Tuesday night, but the success of his Mean Girls–esque strategy of ignoring rival Zephyr Teachout is still up for debate. With 90 percent of precincts reporting, Cuomo had 61 percent of the vote to Teachout's 35 percent (with comedian Randy Credico at 4 percent). That's not exactly the landslide Cuomo was looking for, and the governor embarrassed himself through his ridiculous efforts to avoid acknowledging the Fordham Law School professor, even when she was standing two feet away from him.
Apparently, Cuomo kept up the act straight through primary night. He did not hold a victory party (which would have suggested he participated in a primary), and Teachout was reportedly unable to concede to the governor with a phone call, as he wouldn't give her his number.
Teachout accused Cuomo of having economic policies "indistinguishable from Ronald Reagan's," and failing to tackle the rampant corruption in Albany. Her campaign, which tapped into the same progressive wave that brought Mayor de Blasio into office, gained surprising momentum. As The Wall Street Journal notes, in the past insurgent candidates in statewide races have earned less than 20 percent of the vote.
"You have been heard," Teachout told supporters in her concession speech. "There is no politician in this state who doesn't know about you and know about what you care about right now tonight. You created a courageous and marvelous campaign, waged against all odds, with very little resources, against this massive and corrupt New York political machine."
Cuomo congratulated Teachout and her running mate Tim Wu via press release, admitting for perhaps the first time that he knows their names. He commended them for "running a spirited campaign, engaging in the democratic process and having the courage to make their voices heard."
Wu, the Columbia Law School Professor running for lieutenant governor, was believed to have a better shot than Teachout, but he lost to Cuomo's pick. Kathy Hochul, a former one-term congresswoman from Buffalo, had 60 percent of the vote to Wu's 40 percent, with 94 percent of precincts reporting. Barring the emergence of some career-ending scandal in the next few weeks, both Cuomo and Hochul will win in November.
Speaking of scandal, Cuomo's Republican opponent, Westchester County Executive Rob Astorino, finally earned an endorsement from Chris Christie on Tuesday night. This summer the New Jersey governor said he wouldn't campaign for Astorino because "we don't invest in lost causes," but after the results came in, the Republican Governors Association, which Christie leads, issued a statement titled, "RGA Congratulates Rob Astorino on New York Gubernatorial Primary Victory."
Astorino must have appreciated that late vote of confidence, though he didn't participate in a primary on Tuesday.