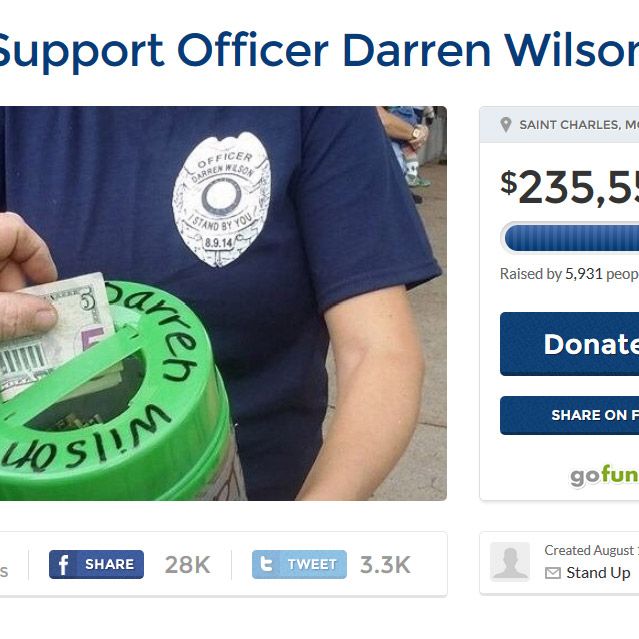 Two separate GoFundMe pages soliciting donations for the Ferguson police officer who shot and killed 18-year-old Michael Brown shut down mysteriously over the weekend because they have no idea how to handle the nearly half a million they've collected so far. Support Officer Darren Wilson ($235,550) and Support Officer Wilson ($197,620) are no longer accepting money for now, but there are other ways for anonymous angry racists to rep the cause: "please continue to Support Darren Wilson by purchasing shirts, hats, & bracelets (coming soon)," says an affiliated Facebook group.
The anonymous moderator of the Support Darren Wilson Facebook page explains, vaguely:
[…] we understand your questions, concerns and frustrations with both GoFundMe accounts. Please note, NOBODY shut down the GoFundMe account because of any petitions floating around trying to close it and GoFundMe did not close them either. That decision was made by those closest to Officer Darren Wilson looking out for his best interest. We are doing our best daily to keep you updated (to the best of our ability) with all truths that come to us. That is our number one priority, to always be honest with our supporters.

Rest assured, if you donated to either GoFundMe it will go to Officer Darren Wilson. We are constantly trying to find the best ways to support Officer Darren Wilson as we know our supporters want to keep helping as best they can.

Bare [sic] with us as we are going through these changes. We will continue to be open and honest with our supporters. We will not do anything unless it is in the best interest of Officer Darren Wilson.

Thank you all, so much!
WE ARE DARREN WILSON!
The Riverfront Times has more on the sudden halt in fund-raising:
[Missouri House] Representative Jeff Roorda tells Daily RFT he's trying to determine whether Shield of Hope, the organization managing the donations, is legally allowed to spend the funds on Wilson's legal defense since it is a registered 501c3 nonprofit. Most donors expected their money to pay for lawyers, legal fees and other expenses related to Wilson's prosecution, Roorda says.

"If we find money was donated to the Shield of Home GoFundMe and it can't be used for the express purpose it was intended for, we will return it," says Roorda, one of the officials listed on the nonprofit's state records, along with Ferguson Police Officer Timothy Zoll and Florissant councilman Joseph Eagan.
Sure, they could have figured this all out before accepting hundreds of thousands of dollars in donations, but there's no time to waste while attempting to capitalize on people's emotions and biases.
"Each and every GoFundMe campaign organizer is able to decide for themselves when they would like to stop accepting donations," a rep for the fund-raising website told the L.A. Times. "Organizers may also choose to begin accepting donations again at a later date."
A similar page started on behalf of the Brown family has raised almost $319,000 as of Monday morning.