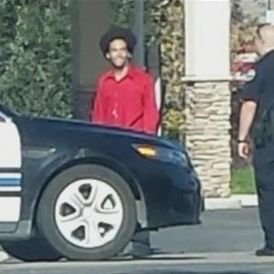 Hunt and police before the shooting.
Photo: Jocelyn Hansen/ABC4
Yet another young black man is dead at the hands of police. Once again, witness accounts do not match the law-enforcement version of events. It's altogether too familiar.
Darrien Hunt, 22, was killed last Wednesday in Saratoga Springs, Utah, where the population is more than 90 percent white. Police say he attacked them with a "samurai-type sword"; Hunt's family says it was a toy, one "you might win at a carnival for knocking over stuffed animals." An independent autopsy, the family's attorney claims, found Hunt was shot six times from behind, with the fatal bullet hitting him square in the back.
Tim Taylor, chief deputy attorney in Utah County, told the story this way over the weekend: "When the officers made contact with Mr. Hunt, he brandished the sword and lunged toward the officers with the sword, at which time Mr Hunt was shot." But as The Guardian reports, that story has since shifted:
Taylor confirmed to the Guardian on Monday that Hunt was in fact alleged to have lunged at the officers outside a bank several dozen yards away from where he ultimately died. While it was outside the bank that Hunt was first "shot at" by police, Taylor said, it was not clear whether he was struck on that occasion.

Hunt then headed north and was shot several more times before eventually collapsing outside the Panda Express, according to Taylor. He said it was not clear if there were any further threatening moves. "Whether or not the individual lunged again at point two, the other location, I don't know about that," Taylor said.
Randall Edwards, the Hunt family attorney, called it "a major change in the official story."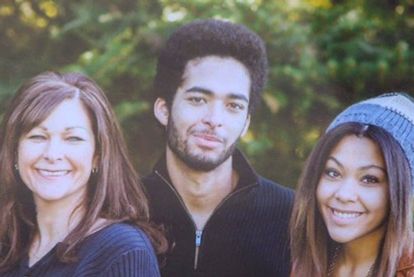 An eyewitness told the local ABC affiliate that initially, police were speaking calmly with Hunt: "I felt like they were very professional. They were keeping their distance, their voices were not raised," she said. All of a sudden, "There were shots, and there was a chase." Hunt, she said, was "running away."
The officers, who have been placed on paid leave, have yet to give their official version of events, a fact Hunt's family calls "almost incomprehensible." Taylor, the attorney for the county, confirmed to The Guardian, "We haven't even interviewed the officers yet. We've talked briefly with them just to kind of get an idea of what the scene was at the time." The interviews are scheduled to take place this week, one on Tuesday and the other on Thursday, more than a week after the shooting.
"I'm in Saratoga Springs, cause it's a safe little community and they killed him. They killed my son because he's black," Hunt's mother, who is white, told the Deseret News. "No white boy with a little sword would they shoot while he's running away."