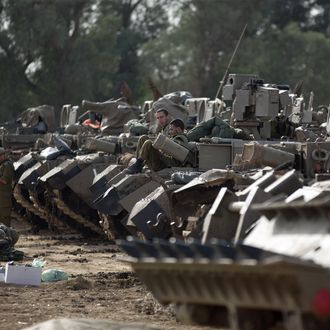 Photo: Menahem Kahana/AFP/Getty Images
The status of David Brooks's marriage may have long been a subject of media speculation, but one aspect about his home life has remained relatively unknown: The New York Times columnist has a son who's currently serving in the IDF. Although the fact mostly went under the radar during this summer's conflict in Gaza, Brooks discussed his son's service in a recent Hebrew-language interview with Ha'aretz, raising the inevitable questions about bias and disclosure.
Rob Eshman of the Jewish Journal translated the relevant portion of the interview:
 "Brook's connection to Israel was always strong," the article reports. "He has visited Israel almost every year since 1991, and over the past months the connection has grown even stronger, after his oldest son, aged 23, decided to join the Israel Defense Forces as a "lone soldier" [Ed. Note: a soldier with no immediate family in Israel].

"'It's worrying,'" says Brooks, 'But every Israeli parent understands this is what the circumstances require. Beyond that, I think children need to take risks after they leave university, and that they need to do something difficult, that involves going beyond their personal limits. Serving in the IDF embodies all of these elements. I couldn't advise others to do it without acknowledging it's true for my own family.'"
It's by no means uncommon for American Jews to have close family ties to Israel, but it is surprising that Brooks, who writes about the country with some frequency, never mentioned that his son volunteered to serve.
According to Eshman, in a similar, previous case involving a Times reporter, the paper's ombudsman, citing company policy, said the reporter should disclose the connection to his editor, and they would then make a decision together about how to handle it. The roles of a reporter and an opinion columnist are, of course, different, but Brooks's editor has yet to comment.