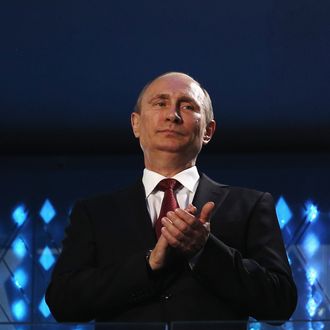 Cool story, Breaux.
Photo: Hannah Peters/2014 Getty Images
When John Breaux retired from the Senate nine years ago, he rode off to a chorus of lamentations — the chummy centrist deal-maker, loved and respected by all, willing to put pragmatism ahead of ideology. Breaux, of course, immediately became a lobbyist, along with fellow former senator Trent Lott. Their latest coup is Gazprombank, on whose behalf they will now deploy their legendary charm and influence.
Why would Gazprombank need to hire John Breaux and Trent Lott? Funny story. It seems Russia has invaded Ukraine, and Gazprombank is a financial organ of Russia and is thus now facing sanctions. Breaux and Lott's portfolio will include "banking laws and regulations including applicable sanctions."
This is yet another demonstration of the fact that a willingness to put pragmatism over ideology can be another way of saying you have no principles at all. After all, what could be more pragmatic than recognizing the blunt reality that Russia is way stronger and richer than Ukraine?