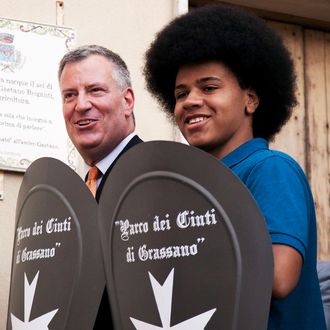 Photo: Giovanni Marino/Getty Images
Dante has finally convinced his dad to enact a policy change that will make him popular in school: According to the Daily News, Mayor de Blasio plans to end the rule put into place in 2007 that bans cell phones from New York City public schools.
In a statement Tuesday, de Blasio said he plans to institute a major overhaul of the widespread ban to address the fact that it simply isn't effective. The current rule also benefits those with extra spending money, as some students are forced to pay daily to have adults near their school store their phones during the day.
De Blasio also cemented Dante's perennial Cool Kid status by admitting he brings his phone to Brooklyn Technical School even though he's not supposed to. Badass.