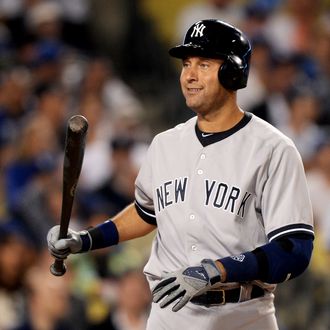 Photo: Harry How/Getty Images
Now that God really is crying from all of your "God is crying for Derek Jeter" jokes, the fact remains: It's probably going to rain in the Bronx tonight, on the anticlimactic occasion of the Captain™'s final game at Yankee Stadium. Because the contest is next to meaningless — with the Yankees eliminated from playoff contention and the Orioles having already clinched the AL East — it's possible the game would not be rescheduled if canceled outright, leaving thousands of highly invested ticket holders (and Yankees executives with nothing left to cling to this season) to sit around and pray for the next few hours, or at least be willing to stay up really late.
"I don't care what it takes," a Yankees official told USA Today, "we'll be here all night to get this thing in."  ("All efforts will be made to get the game in tonight," an MLB spokesperson added.)
As of 3 p.m., the chance of rain in the Bronx, according to the Weather Channel, sits at 45 percent beginning at 7 p.m., when the game is scheduled to start, and rises to 50 percent from 8 until 11 p.m. AccuWeather puts the number over 60 percent around the first pitch.
Some fans with tickets don't seem to know how weather, or baseball stadiums, work:
At the same time, the crappy forecast has sent secondary market prices dropping more than 15 percent, with good seats coming down to a downright affordable $697.75, according to secondary market aggregator TiqIQ, as reported by CNBC. SeatGeek currently has nosebleeds just under $300.
If the field is unplayable, however, sellers could lose millions: "It would be a disaster for brokers if this game is rained out and never made up," a SeatGeek rep told the Daily News. "Brokers will lose all the profits they would have otherwise made on this, the most expensive regular season ticket in MLB history."
The Yankees have three games remaining after tonight, all on the road at Fenway Park in Boston. Or the MLB brass could enact the rarely used "Derek Jeter Plays the Game Right" clause and give the guy a few more home games out of pity and #RE2PECT.