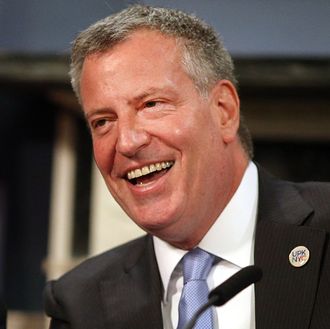 Photo: Spencer Platt/Getty Images
New York's First Family hosted a gathering at Gracie Mansion on Wednesday night to kick off Fashion Week, the first get-together of its kind. Among the attendees were Diane von Furstenberg, Donna Karan, Ralph Lauren, Michael Kors, and Anna Wintour, who had to rush out to get to the U.S. Open.
Intending to "seduce" the de Blasios the same way she had Mayor Bloomberg, von Furstenberg laid the charm on pretty thick and decided to rank them by hotness:
As she introduced Mr. de Blasio, she described his family as "so hot" twice; described the first lady, Chirlane McCray, as "very hot;" and described their daughter, Chiara, as "even hotter."
But what about Dante???