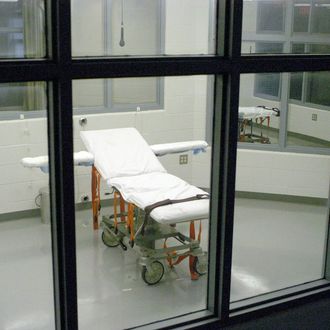 Photo: Stephen Lance Denee/AP
Half-brothers Henry McCollum, 50, and Leon Brown, 46, are set to go free after a North Carolina judge overturned their convictions in the 1983 rape and murder of an 11-year-old girl. The two brothers, who both have low IQs, initially told police they committed the crime, but they quickly claimed their confessions were coerced. Nevertheless, both were given the death penalty, and McCollum became the state's longest-serving death-row inmate (after five years, a retrial reduced Brown's sentence to life in prison). There was no physical evidence connecting the brothers to the crime, and recently discovered DNA evidence points to another suspect: Roscoe Artis, who is serving a life sentence for a similar rape and murder committed around the same time the girl was killed.
After Sabrina Buie was found dead in a soybean field with her underwear stuffed down her throat, a 17-year-old girl told police that she heard McCollum, who was 19 at the time, might be involved. During five hours of questioning with no lawyer present, he signed a confession written out by a police officer, saying he attacked and killed Buie with three other teens. According to the Charlotte Observer, McCollum then tried to walk out of the police station, saying he thought he could go home once he confessed. By the end of the night, his 16-year-old brother had signed a confession as well.
In recent years the Center for Death Penalty Litigation began pushing for DNA testing on evidence recovered from the crime scene, some of which was found in a box of evidence that police repeatedly claimed they didn't have. Two fingerprints were found on beer cans at the scene; one was Buie's, and the other didn't belong to McCollum or Brown. The DNA on a cigarette recovered nearby didn't match the brothers either, but could be from Artis.
When asked why Artis was never a suspect in the murder, current district attorney Jonson Britt said, "That's a good question, and it's a question I don't have an answer for." Artis lived with his sister next to the soybean field, had been convicted of attempted rape, and there was a warrant out for his arrest in a 1980 rape and murder. In that case, the victim was also found naked with an object stuck in her throat.
Sharon Stellato, the associate director of the North Carolina Innocence Inquiry Commission, testified on Tuesday that in interviews this summer Artis initially said he didn't know Buie, then admitted that she would buy cigarettes for him. He said he gave the girl a hat and coat on the night she went missing because it was raining, but weather reports say it was clear that night. Artis, who befriended McCollum in prison, said repeatedly that the brothers are innocent, but didn't confess to the crime.
Over the years, the case has become one of North Carolina's most notorious crimes. After the Supreme Court refused to review McCollum's case in 1994, Justices Harry Blackmun and Antonin Scalia traded barbs about McCollum. Blackmun noted that the convict had the mental capacity of a 9-year-old, and said, "this factor alone persuades me that the death penalty in this case is unconstitutional." In an unrelated death-penalty case, Scalia referred to "the case of an 11-year-old girl raped by four men and then killed by stuffing her panties down her throat," saying, "How enviable a quiet death by lethal injection compared with that!"
McCollum and Brown are still being processed, and are expected to be released on Wednesday. Ken Rose, who represented McCollum for two decades, said, "It's terrifying that our justice system allowed two intellectually disabled children to go to prison for a crime they had nothing to do with, and then to suffer there for 30 years."