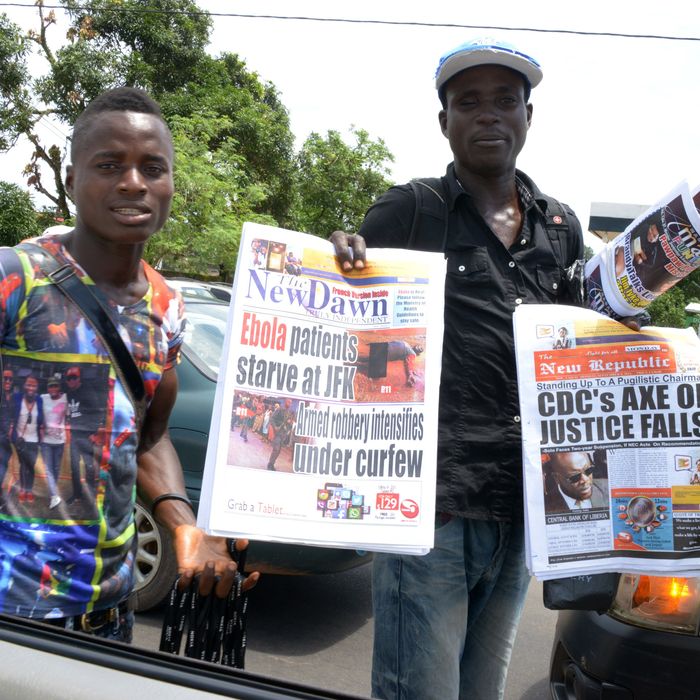 A street newspaper seller hawks his papers on September 8, 2014 in Monrovia.
Photo: DOMINIQUE FAGET/AFP/Getty Images
In the United States, fears about an Ebola outbreak have died down considerably, to the point that the biggest recent story on Ebola in America is about the Nebraska patient getting "bored" in his isolation room. However, in Liberia, Sierra Leone, and Guinea, where 2,400 people have died since March and roughly 5,000 people are infected, Ebola has become a part of everyday life. As the U.S. military launches its effort to contain the virus in West Africa, here's another look at how the story is being reported in the areas hit hardest by the outbreak.
Liberian Capitol Building shuts down after suspected Ebola death
The Liberian Senate and House of Representatives have suspended all activities for 48 hours to disinfect the Capitol Building after Deputy Sergeant-at-Arms Captain James Morlu, who is usually stationed at the door to the chamber, died suddenly. Front Page Africa reports:
According to sources at the capitol, Morlu had been sick for two weeks after burying one of his relatives who is suspected to have died from Ebola. The news comes just days after it was reported that the deadly Ebola virus hit close to the Presidency where a senior Member of the President Office wife died from Ebola. In a statement issued by the press bureau of the House, it stated that the house leadership took the decision based on medical advice to allow the disinfection of the building due to a probable case of Ebola.
Liberians are wary of the U.S. plan to deploy 3,000 military personnel to combat Ebola
The reaction to the announcement this week that the U.S. is ramping up its effort to fight Ebola was mixed in Monrovia. While some welcomed the additional aid, others were upset that the U.S. is sending soldiers to West Africa. (As the Washington Post explains, the military is building treatment centers and working to get health workers and medical supplies into affected areas.) Per Front Page Africa:
But many weary Liberians say they would rather a non-military intervention in the country.Varney Sherman is a young Liberian said that the US intervention is belated and wants more help to the medical centers in Liberia, rather than a military intervention. "We don't need guns to protect us for now. What we need now is drugs; we need a vaccine to curtail the spread of this virus," said Sherman.

Continued Sherman: "So it is unfortunate to hear that America is sending over three thousand troops (men); as though we are fighting dissidents or rebels; we need experts, scientists, to come and scrutinize the situation. What we are fighting is microorganism; a biological warfare is what has been waged against the people of Liberia."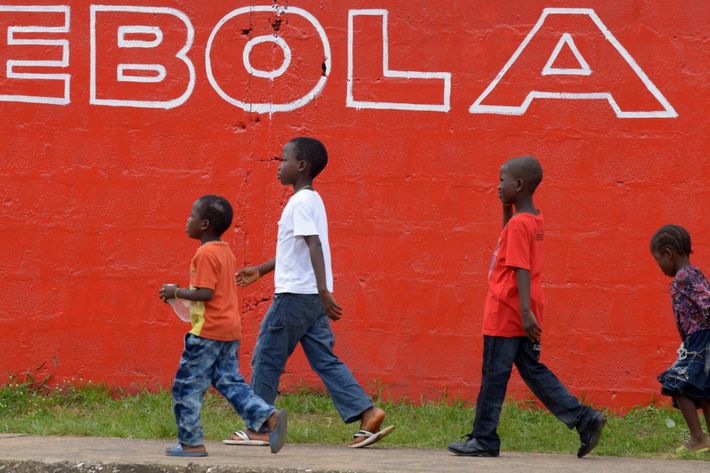 Nigerians clash over whether to reopen schools
Ebola forced the governments of Nigeria, Liberia, Sierra Leone, and Guinea to temporarily shut down schools to curtail the spread of the disease. Nigeria worked quickly to contain the outbreak, and President Goodluck Jonathan says that all 19 infected Nigerians have either died or recovered. The federal government said schools should reopen on September 22, but the teacher's union says it won't be safe to resume classes until October 13. The Nigerian Tribune reports:
[Teachers' union president Michael] Olukoya, who briefed newsmen in Abuja on the outcome of the NEC, meeting said based on the reports received from all the state chapters of the union, none of the states had adequately prepared for the resumption of the schools.

He said the teachers were not ready to endanger their lives and those of the school children when necessary preventive and protective gadgets had not been put in place.

Olukoya added that most of the state governments coming out to say that they were ready for school resumption were only making political statements.
Church in Liberia shuts down due to Ebola fears
New Dawn reports that while most churches around Monrovia are taking precautions, such as discouraging parishioners from shaking hands and providing "sanitizers at their respective entrances for customers and worshipers to wash their hands," one church leader wants his church shut down entirely:
The Rev. Alfred Habakkuk Yuagoto, told The New Dawn recently in an interview in Weala, Margibi County that the decision is as a result of high death rate in Bulorkolleh. More than 13 residents have reportedly died in the town after they showed symptoms of the virus such as severe fever, headache, weak joints, red eyes, vomiting and toileting, among others.

"I've planned to close down the church because people are dying too much in the town, showing symptoms of Ebola; even though I am not saying that they are dying from Ebola. " "I am afraid because we have Ebola here so I want the Church to be closed for now."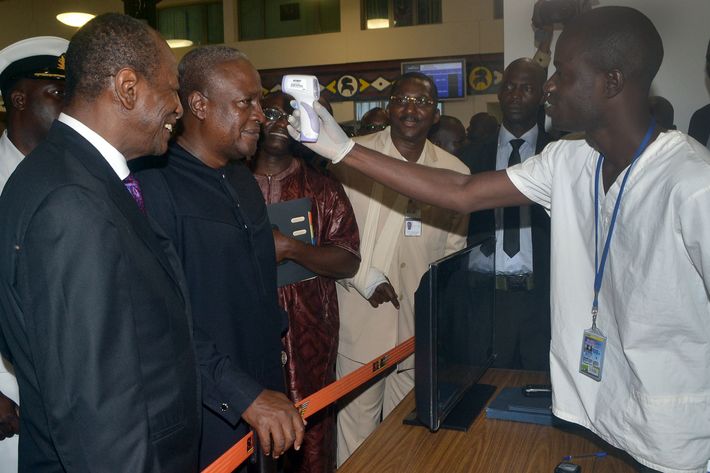 Ebola prevents presidents from shaking hands
When Ghanaian President John Mahama and Sierra Leonean President Ernest Bai Koroma met on Monday, they did not shake hands. Sierra Leone's Awoko reports:
The Ebola menace that has apparently ravaged the country in close to four months could not permit the two Presidents to extend the usual warm embrace that leaders give to their kinds during special Presidential visit like such, as medical precautions established for the prevention of Ebola strictly forbids body contact. Instead, both Presidents bowed to the chlorine bucket situated at the entrance of the Lounge to wash their hands.
Ebola causes surge in online shopping
While the outbreak has hurt many businesses, Vanguard reports that Nigeria has seen a surge in online purchases, particularly of products like hand wash, sanitizer, bleach, and contraceptives. Online retailer Jumia reported a 50 percent increase in the number of new customers:
Speaking on the increase, Managing Director of Jumia Nigeria, Jeremy Doutte, said: "We have seen a massive increase in number of new customers on our website and it is encouraging to see people are taking the awareness of EVD in Nigeria seriously with less exposure to public places.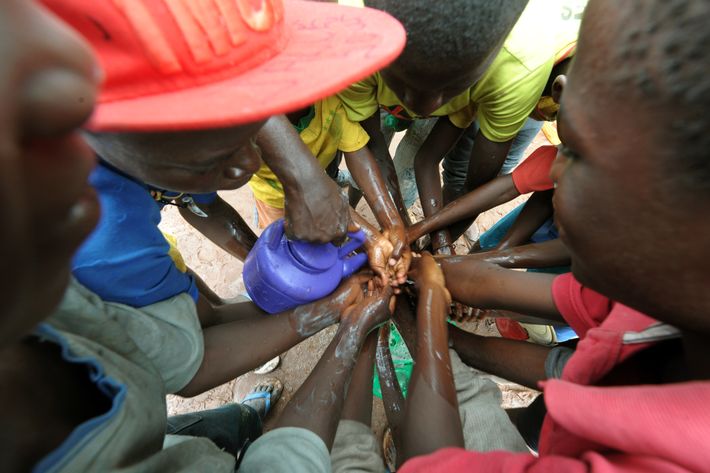 Opinion: How does Liberia's Ebola crisis compare to 9/11?
With the number of Ebola deaths about to surpass the number of people killed on 9/11, Makanfi Kamara questioned several Liberians on whether there are similarities in how the tragedies affected U.S. and West African culture. She writes in Liberia's Daily Observer:
The Ebola virus has not only caused tragedy and changed the lives of people affected, but it has also drastically affected our life style. Liberians are so used to greeting each other by touch – a hand shake here, an embrace there, even a kiss. Where we used to share cups, bowls and spoons; beds, clothes and shoes; we now think thrice about potential threats of infection from our closest friends and relatives. Instead, we wash hands religiously at every door post, keep a distance beyond arm's length and sometimes bow to greet each other like the Chinese. Some women have even put their male partners "on dryer" – a moratorium on sexual activity until the Ebola Season is over. And many men have admitted that, fearing for their own lives, they have decided to "abide by the rules of the game" – fidelity.

There are also direct and indirect psychological effects: where members of households and families are infected with Ebola, the dichotomy of care vs. neglect persists, because of the fear of infection being transmitted. Where armed government forces go shooting at unarmed people contesting an imposed quarantine; or where family revenue streams get dried up because of epidemic-preventive regulations imposed by government or private employers; it gets really disturbing and forces people to find new ways to adapt to the situation. Then, there is the sight of dead bodies lying all over, in the streets; and the depression of thinking you could be next and the stigma it leaves you with.