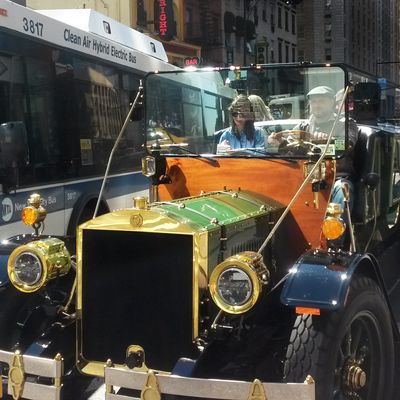 The eCarriage is battery-powered, cruelty-free, and doesn't poop on the street
Photo: Joel M. Bhuiyan
Around noon last Friday, a small crowd clumps together on a corner outside Bryant Park. The object of interest isn't easy to miss: a hulking, antique-looking green automobile the size of an SUV, with big bench seats, brass trim, and a steering wheel the size of a pizza pie. "Every place you stop, you get swarmed," says Jason Wenig, the vehicle's designer and builder.
Wenig is about to take the battery-powered, cruelty-free creation — dubbed the eCarriage — out for a test run, joined by Daily Intelligencer and members of NYCLASS, the local animal-rights group leading the campaign to ban Central Park's horse-drawn carriages on the grounds that they are "cruel and inhumane." The eCarriage is NYCLASS's proposed replacement for all that animal-powered transportation capacity for tourists.
The idea of a horse-carriage ban gained traction after then-candidate Bill de Blasio endorsed the idea during last year's mayoral campaign. While de Blasio hasn't proposed any legislation, Chelsie Schadt, lead organizer for NYCLASS, claims he will do so soon, though she declined to offer any further details. And has the mayor ridden in the eCarriage yet? Not yet, she says.
Wenig, a former New Yorker who now works out of the Florida-based the Creative Workshop, began local road-testing of the eCarriage about three weeks ago, after months of trials in Florida and a grand unveiling last April. He's put nearly 100 miles on the odometer here.  
The small crowd is staring and photographing and waving as Wenig slides into the driver's seat — which, like the passenger seats, is a long way from the ground. He pumps the horn — "awoogah! awoogah!" — and pulls away from the curb as if we're a ship leaving port on a maiden voyage.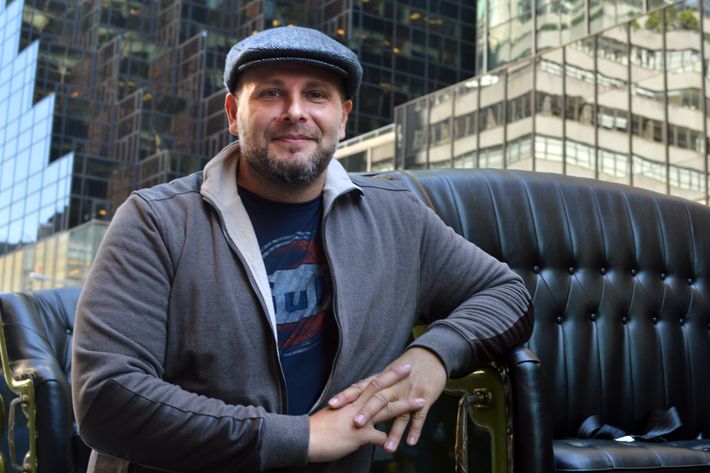 "If you notice, it's kind of bumpy," Wenig says. "We did that on purpose because I want people to be really immersed in the idea of driving in an antique car." Though everything inside the eCarriage is gleaming and new, Wenig mimicked period detail as much as possible, with a dashboard full of clocklike meters, hands shivering as the vehicle accelerates near to a top speed of a whopping 30 miles per hour.
We head down Fifth Avenue toward 34th Street. The parasol top is off, and the engine sounds like a toy car's. Riding shotgun, it's hard to hear the passengers in the back. "If we were tourists, and we were in New York City 100 years ago, this is how we'd be doing it," Wenig says, as we meet very 21st-century jams. Sandwiched between taxis and cars, drivers glance up, some smile, a few shout questions across the lanes, and the rest just ignore us — this is New York, after all. Despite being open — no doors, no roof, just a flat, front windshield — the 7,000-pound eCarriage feels like it would flatten any yellow cab that gets in its way. "You'd kind of think we'd win," says Wenig.
We take 34th Street to Eighth Avenue and turn. Along the way, a ticket hawker offers to advertise for us. A city bus driver gives us the thumbs-up. "Chitty Chitty Bang Bang!" a UPS driver calls from a lane over. "Don't fly away." 
Stuck at lights, Wenig hands out his card to pedestrians who approach, delivering a fast-paced spiel that ends when the signal changes to green. More than one person asks the model year, and Wenig gleefully responds that it's a 2014. "The reason we all fell in love with cars was this interaction of human and machine," Wenig says. "Not to connect it to the horse thing, even though that's obviously why we're here."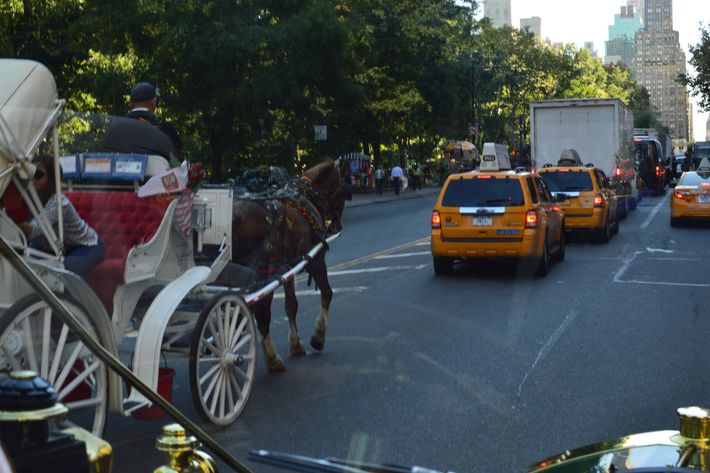 When Wenig finally cuts up toward Columbus Circle and Central Park, we glance (and smell) that reason. A carriage moves in front of us ("an illegal U-turn," grumbles a member of the NYCLASS party from the back), the horse clapping along the pavement, oblivious to the machine behind him that might or might not take his job someday. Then again, with no plans at present to build more eCarriages, the two will just have to share the road, for now.