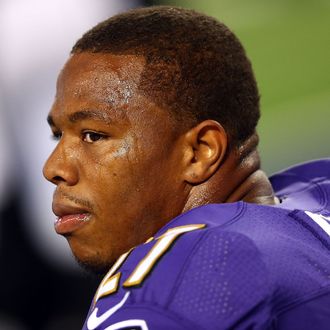 Photo: Ronald Martinez/Getty Images
Baltimore Ravens running back Ray Rice was suspended for two games in July following an indictment for felony aggravated assault against his then-fiancée Janay Palmer, and now TMZ has published video of the incident.
In the disturbing video, Rice and Palmer — who were married in March — are seen arguing outside of an elevator in an Atlantic City casino. They each take a swing at each other before Rice punches Palmer hard with his left fist, throwing her back into a railing and knocking her out cold. The rest of the video, parts of which surfaced in February, show Rice haphazardly dragging an unconscious Palmer out of the elevator.
Twenty-seven-year-old Rice received a two-game suspension for the incident, which many protested as far too lenient. In August, in response to the backlash, the NFL announced tougher penalties for players who commit abuse or assault: six games for a first offense, and a potential lifetime ban for a second.
As for the charges, Rice entered a pretrial intervention program instead of going to jail, and completion of the program could lead to the charge being wiped from his record completely.