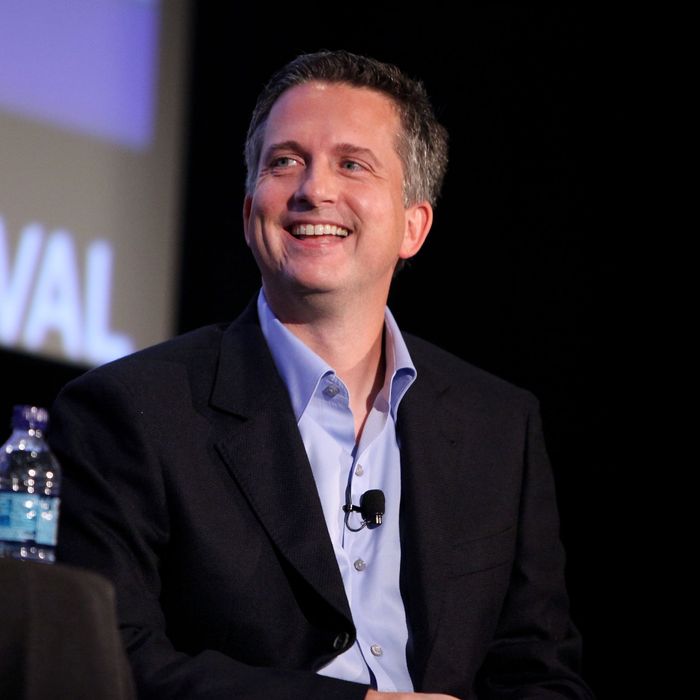 Photo: Amy Sussman/2010 Getty Images
ESPN ombudsman Robert Lipsyte, the company's independent public advocate and insider-baseball media commentator, has confirmed what seemed obvious after the network suspended its "franchise player" Bill Simmons for three weeks: The Grantland editor was punished not just for calling NFL commissioner Roger Goodell a "liar" over the the Ray Rice tape ("He's a liar. I'm just saying it. He is lying … it's such fucking bullshit"), but for "insubordination." On the same podcast, sensing he had already trampled on the line, especially considering ESPN's business relationship with the NFL, Simmons dared "somebody" to say he was "in trouble." He clearly meant his bosses at the network, and so they had no choice but to ground him.
Lipsyte, in a column supporting the punishment (which, as many have pointed out, was harsher than Rice's initial suspension for domestic violence), landed the first new comments from both Simmons and ESPN president John Skipper, "who just happens to be Simmons' most important booster at the company." Skipper admits he's a bit exhausted with the Simmons shtick, and heard the dare loud and clear, whether or not it was directed at him:
But Skipper certainly thought it was, and that insubordination was one of the main two reasons for the severity of the suspension. Particularly on podcasts, said Skipper, Simmons has a tendency to slip back into his "bad boy, let's-go-to-Vegas" persona. Simmons, Skipper believes, is transitioning into an important influence and mentor at Grantland, and needs to leave his well-worn punkishness behind.

Simmons, in our conversation, alluded to that as well. He said he sees his podcasts as adhering to different standards than his column, closer to unstructured conversation.
In addition to the unruliness, Lipsyte argues that Simmons is "by no stretch a leading journalist" and may have "undermined ESPN's solid journalistic efforts on the Rice story with some Grantland grandstanding." He adds that the podcast rant "is not the way he writes his column." The thing is, it is — Simmons rarely, if ever, moves outside of opinion to reporting, favoring the same hyperbole and repetition he used in his Goodell monologue.
What Lipsyte doesn't mention in his support of the suspension is his own previous column, "ESPN flexes journalistic muscle on Rice," which praised the "network's heavyweights" for their "strong coverage and commentary." Before citing ESPN's actual journalism on the story, he highlighted "Keith Olbermann, Jason Whitlock and Bill Simmons, among others" who "delivered their own verbal punches." The linked Simmons column goes like this:
But first … how the hell does Roger Goodell still have a job?

Seriously … how the hell does Roger Goodell still have a job?

In all caps … HOW THE HELL DOES ROGER GOODELL STILL HAVE A JOB?

In bolded, italicized caps … HOW THE HELL DOES ROGER GOODELL STILL HAVE A JOB?

One more time …

HOW THE HELL DOES ROGER GOODELL STILL HAVE A JOB?

My answers: I don't know, I don't know, I don't know, I seriously don't know, and I can't f- - - ing figure it out (I don't know).
ESPN knows exactly what it's getting with Simmons — a cannon just loose enough to be interesting — it just doesn't like when he acts like he's bigger than the brand.