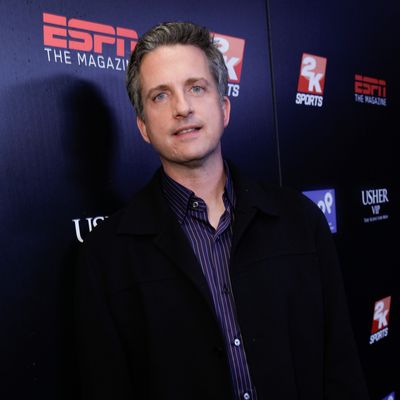 Photo: Tiffany Rose/WireImage
Here's an interesting development for those still struggling to figure out what warrants punishment in the world of football: ESPN just suspended commentator and Grantland editor Bill Simmons for calling NFL Commissioner Roger Goodell a "liar" on his podcast. Simmons will be out for three weeks, and it's unclear if the suspension is paid or unpaid. That's one week longer than the commissioner initially suspended Baltimore Ravens running back Ray Rice for domestic violence, as many furious tweeters noted on Wednesday night (#FreeSimmons is trending right now).
Simmons has been critical of Goodell's handling of the Rice incident, like just about everyone, and he went off on a profane rant about the commissioner during his "B.S. Report" podcast on Tuesday. ESPN just pulled the podcast, but obviously that doesn't work on the internet. You can listen to the relevant segment here:
And here's a transcript of Simmons' remarks, via Slate:
I just think not enough is being made out of the fact that they knew about the tape, and they knew what was on it. Goodell, if he didn't know what was on that tape, he's a liar. I'm just saying it. He is lying. I think that dude is lying, if you put him up on a lie detector test that guy would fail. And for all these people to pretend they didn't know is such fucking bullshit. It really is—it's such fucking bullshit. And for him to go in that press conference and pretend otherwise, I was so insulted.
In ESPN's defense, a moment later Simmons dared his employer to discipline him:
I really hope somebody calls me or emails me and says I'm in trouble for anything I say about Roger Goodell. Because if one person says that to me, I'm going public. You leave me alone. The commissioner's a liar and I get to talk about that on my podcast. Thank you. … Please call me and say I'm in trouble. I dare you.
On Wednesday night, ESPN obliged, as the company explained in this statement:
Every employee must be accountable to ESPN and those engaged in our editorial operations must also operate within ESPN's journalistic standards. We have worked hard to ensure that our recent NFL coverage has met that criteria. Bill Simmons did not meet those obligations in a recent podcast, and as a result we have suspended him for three weeks.
This isn't the first time Simmons has clashed with ESPN. In 2009 he was suspended from Twitter for two weeks after criticizing ESPN radio affiliate WEEI, and last year he was suspended for calling a segment on ESPN's "First Take" "awful and embarrassing to everyone involved."
As ESPN ombudsman Robert Lipsyte wrote — in a post that praised Simmons, among other commentators — the network's reporting on the current NFL scandals has been surprisingly strong. However, ESPN has a $15.2 billion deal with the NFL to air Monday Night Football through 2021, and it's believed that the network cut its ties to the Frontline documentary League of Denial last year due to pressure from the NFL.
A few people agree that there should be consequences for publicly taunting your employer, but as shown below, the Twitter reaction has been overwhelmingly negative. If ESPN cares about the backlash they can always follow the NFL's example and reconsider Simmons' punishment. On the other hand, $15.2 billion is a lot of money.