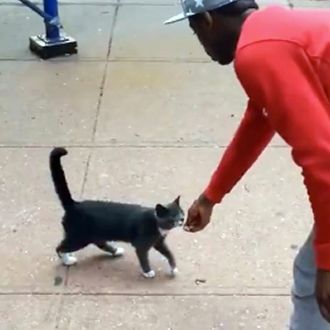 "People see me in the streets, they frown their face up," says Andre Robinson, the 22-year-old infamous for brutally punting a stray cat in a video that went viral and eventually resulted in his arrest. Robinson is due back in court Wednesday on those misdemeanor charges, and as the New York Times reports, he hasn't even been offered a plea deal. Instead, thanks to the public attention paid to the case and a still-vocal group of animal-rights advocates, Robinson is being made an example of.
"It's part of the new administration — we're going to take these cases seriously," says Brooklyn D.A. Ken Thompson, explaining that the case is "indicative of my determination to be strong on folks who think they can just abuse any type of animal."
The NYPD now has an official Animal Cruelty Investigation Squad, the Times reports, and arrests are up 250 percent year-over-year through September. A Facebook group for Robinson's feline victim has more than 12,000 likes — "Adjourned until Oct 1. We will be there!! " says the latest update on "Justice for King." And it's punctuated with a smiley face. Robinson, meanwhile, faces up to a year in jail, not to mention the derailment of the rest of his life, for a single terrible decision.
"It was just a spur of the moment, it just happened," he said in court last week. "I shouldn't have done it."