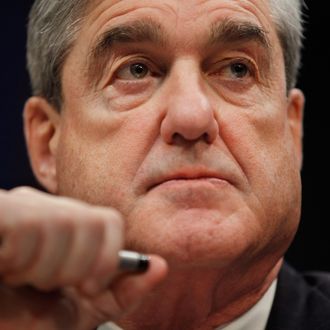 Robert Mueller.
Photo: Chip Somodevilla/2011 Getty Images
Following an Associated Press report that the NFL received the full video of Baltimore Ravens running back Ray Rice knocking out his future wife in April, not this week as the league insists, the NFL announced that former FBI director Robert Mueller will conduct an independent investigation of the league's "pursuit and handling of evidence in the Ray Rice domestic violence incident." Giants co-owner John Mara and Steelers owner Art Rooney, who are both lawyers, will oversee the probe, and the results will be made public.
Calls for NFL Commissioner Roger Goodell to resign intensified on Wednesday evening, with the National Organization for Women, several members of the media, and two senators saying he should step down. So far, that seems unlikely. In a Wednesday interview with CBS This Morning, Goodell said he does not think his job is on the line, and multiple NFL sources agreed with that assessment. One told the Washington Post on Wednesday night that Goodell would "never" consider resigning, and there is "no reason to."
That could change depending on the results of the report, but for now Goodell appears to have the support of the only people who have a say in his employment: the 32 NFL team owners. A three-quarters vote of league owners would be required to fire Goodell, and Sports Illustrated notes that would constitute a very pricy breach of his contract. The owners could also issue a less severe vote of no confidence, at which point Goodell would be expected to resign.
The NFL has been extremely profitable since Goodell became commissioner in 2006, and the owners have increased his pay drastically over the years. His salary is more than $44 million, making him the highest paid commissioner in any sports league by far.
Earlier on Wednesday, John Mara, one of the two owners overseeing the investigation, defended the NFL and Goodell. "The notion that the League should have gone around law enforcement to obtain the video is, in my opinion, misguided, as is the notion that the commissioner's job is now in jeopardy," Mara said. "The video is appalling, and I believe that the team and the League took appropriate action after they finally had the opportunity to view it."