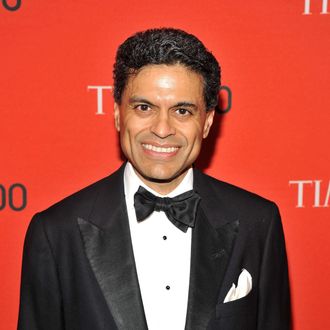 Photo: Stephen Lovekin/Getty Images
Fareed Zakaria hasn't worked for Newsweek since 2010, but the company just added an unfortunate update to all of his work. Politico notes that the following disclaimer has been added to all of his columns and his author page on the magazine's website:
>
Fareed Zakaria worked for Newsweek when it was under previous ownership. Readers are advised that some of his articles have been the subject of complaints claiming that they contain material that should have been attributed to others. In addition, readers with information about articles by Mr. Zakaria that may purportedly lack proper attribution are asked to e-mail Newsweek at corrections@newsweek.com.
The move comes in the wake of new plagiarism accusations from Our Bad Media, which is run by anonymous Twitter users @blippoblappo and @crushingbort. Since exposing BuzzFeed viral politics editor Benny Johnson's ethical lapse, the site has spent the past few weeks cataloguing examples of plagiarism from throughout Zakaria's career.
Zakaria's current employers, CNN and the Washington Post, have both said — aside from the previously reported instances of plagiarism, which resulted in a suspension and an apology from the journalist — they've found no further evidence of plagiarism. Thus, their audiences will not be warned about their potential exposure to other people's work.