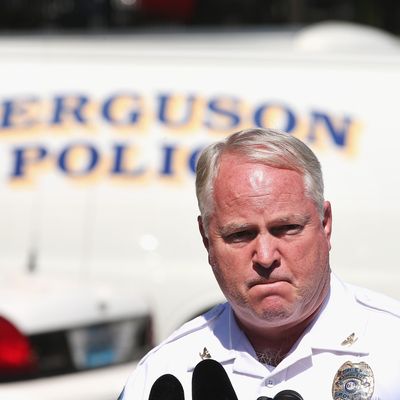 Ferguson Police Chief Thomas Jackson.
Photo: Scott Olson/2014 Getty Images
Ferguson Police Chief Thomas Jackson's video apology did not go over well, and things got even worse on Thursday night when he attempted to make peace with protesters outside the police department. At 11 p.m., Jackson emerged from the station to address the demonstrators, who had hung a "Chief Jackass Resign" sign outside the building. St. Louis Public Radio reports that he apologized again, took questions, and promised changes, saying, "We've gotta increase training and awareness. We've gotta get out in the community, we've gotta change the court system and the ticketing system. No, I'm serious, this is what's causing the mistrust, right?"
He then agreed to march along with the protesters, but they only got about ten yards before, as St. Louis Alderman Antonio French put it, "all hell broke loose."
The crowd got upset when "a few Ferguson officers attempted to shove their way to their chief," according to St. Louis Public Radio, and a skirmish broke out.
Both sides began pushing and shoving each other, and some people were knocked to the ground. Police in riot gear arrested at least four people, but protesters lingered for several more hours.
In a CNN interview earlier in the day, Jackson declared that he won't resign, and said of the situation, "This is mine, and I'm taking ownership of it."
However, someone did lose his job on Thursday night. Devin Sean James, whose public relations firm was hired by the department two weeks after Michael Brown's shooting on August 9, was fired after the St. Louis Post-Dispatch reported that he was convicted of reckless homicide for shooting and killing an unarmed man (James says he was defending himself during a robbery). If anyone's interested in trying their hand at the most difficult PR job in America, there's an opening.