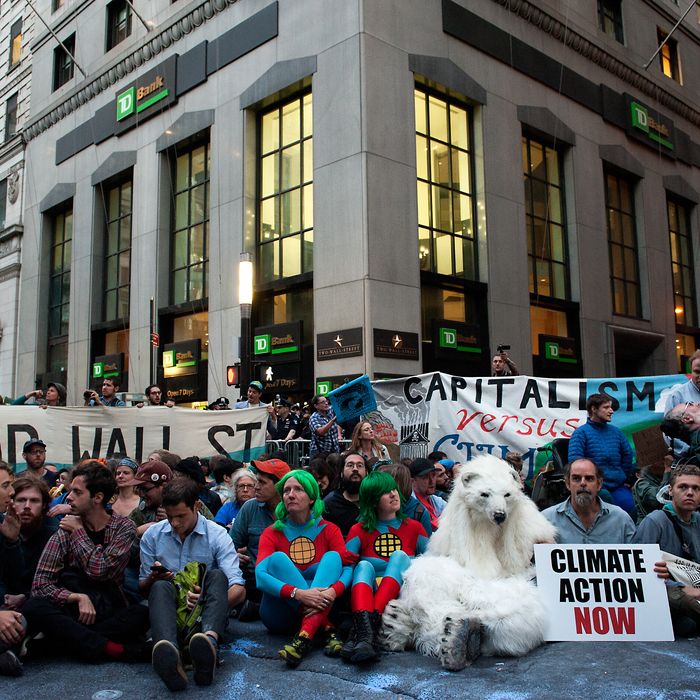 Demonstrators sit in the middle of Broadway during the Flood Wall Street protest.
Photo: Bryan Thomas/2014 Getty Images
A baby at her breast, Stacey Hessler looks like a radical Madonna in pink Converse as she tries to avoid the NYPD officers arresting protestors during Monday's Flood Wall Street demonstration. This was her two-month-old daughter Joy's second protest. Her first was Sunday's Climate March.
"I'm here to connect climate change to Wall Street," Hessler says as Joy cries in a swaddle and helicopters circle overhead. "I was part of Occupy Wall Street and it kind of got tiring just protesting, because it seemed like we weren't really changing anything."
On the heels of Sunday's giant People's Climate March, about 1,000 protestors, dressed in ocean blue, descended on lower Manhattan the next morning to protest the financial industry's role in climate change. Although the sit-in drew individuals from across the country, many were the same protestors who had camped out in Zuccotti Park three years earlier to Occupy Wall Street.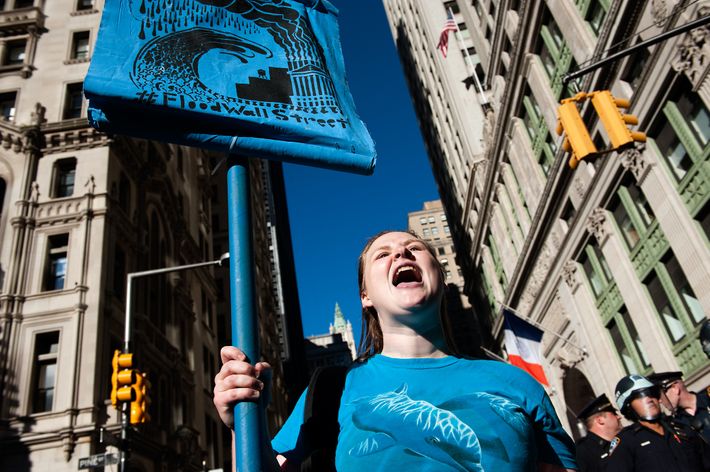 "The Occupy movement was what it was," says protestor Sandy Nurse. "But there is an extended family of people who met through that, and this is an intention of that deepening of the work."
The protestors rallied, blocked traffic, listened to speakers like Naomi Klein and Chris Hedges, and learned new water-friendly hand signals. (Flood is two arms moving forward as if directing a plane, also useful for directing crowds. Sink is two hands, palms down, moving downward parallel to each other, which can encourage people to sit down.)
"It's like a family reunion," says protestor Rami Shamir. "I was involved in Occupy from the start, and a lot of times when it is a permitted march, it feels [like] asking your lords for permission, and today just showed we don't have to ask permission."
Around midday, the crowd converged on Bowling Green near the famed Wall Street Bull, and the blocks filled with hundreds of protestors. A giant banner was unfurled, a brass band played, and the pizza support teams arrived by 4 p.m. with fresh pies.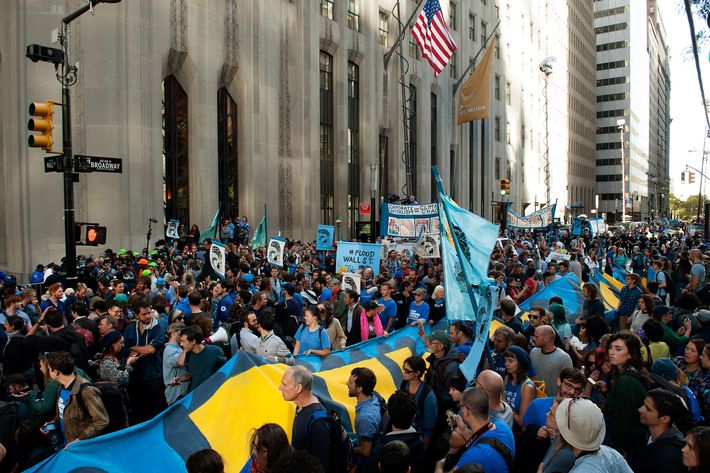 "While yesterday lay the groundwork, a lot of people were excited by today because it wasn't a corporate sponsored parade," says Eco Lake, 35, from Dutchess County, who previously ran a massage table in Zuccotti and is known for periodically blowing a conch shell.
Unlike the Occupy protests in 2011, which were often characterized by intense clashes between protestors and police, the demonstration remained mostly peaceful.
"If the cops had tried to close in on us at 2, 3, or 4, there would have been a lot of people arrested," Lake says. "There was a call to stay until 5 p.m, then there was a general dispersal, and people felt a sense of victory."
Some protestors talked about staying the night, but by about 6 p.m., those who refused to move were gradually corralled, arrested, and taken away on NYPD buses. The NYPD says 104 people were taken to jail — including one polar bear.