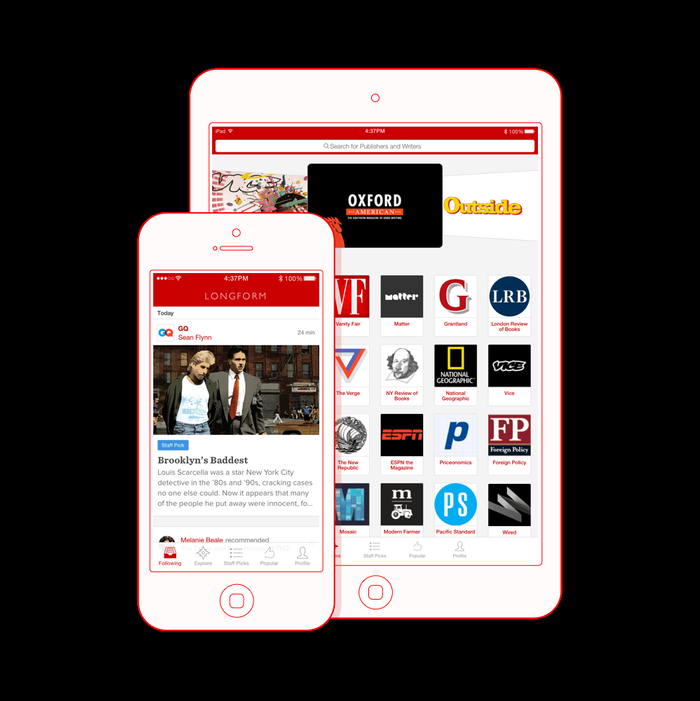 Photo: Courtesy of Longform
Longform.org is one of a handful of websites that made an early bet on the survival of feature writing in a click-bait world. Now, with their week-old app for the iPhone, a one-stop journalism shop where Twitter meets Hudson News, founders Max Linsky and Aaron Lammer are not only doubling down on that bet, but embracing a less heroic epithet than the well-worn "long-form": aggregator.
Longform's physical plant — five people around two tables in a Dumbo loft shared with fellow nonfiction outlet the Atavist — isn't much bigger than it was 2010, when the two Wesleyan alumni worked out of Lammer's apartment to launch a website recommending their favorite feature stories. (Competitor Longreads, which began as a Twitter hashtag a year before that, was sold a few months ago to WordPress owners Automattic.) "When we started, the general assumption, even on the part of the people who published this stuff, was that it wasn't going to get read online," says Linsky, sitting with Lammer in the office's bare conference room. "What's become true since we started is that the audience for this kind of work digitally is larger than people assumed."
In order to meet that growing demand, the founders had to "fire ourselves from our dream job," hiring part-time curators from a pool of passionate fans — wisdom imported from the crowd. Two years ago they started a weekly podcast of journalist interviews, which now has 50,000 listeners, and a small iPad app that cost $5 and guided readers to roughly 50 publications.
That first app was, per Linsky, "a pretty rudimentary system," a beta test and a sounding of demand. It worked, gaining 60,000 subscribers, and so a year later they set out to build something much more ambitious. The new app links to more than 1,000 publications, both print and digital, and operates on a social-network model, allowing readers to follow both news sources and individual writers on a sleek, clean interface. Linsky calls it "Twitter for articles without the noise." There's still a tab for curated "Staff Picks," as well as a new "Most Popular" list of readers' favorites.
A week in, 70,000 people have downloaded the app. That's cool, but what would be really cool is a million subscribers — Lammer's goal for this time next year. "If there's one thing that we disagree with the popular consensus and many venture capitalists about, it's what our ceiling is," says Lammer. "I think our ceiling is people who know how to read English and have a mobile device." India is their second biggest market, he says, and it's under-served.
Longform didn't launch with venture capital — unlike Byliner, a competing site that's struggled after overextending itself — but now they are relying for the first time on a few outside investors, ranging from tech-media pioneer Alan Meckler to Charles Duhigg, a Times business reporter and the author of The Power of Habit.
Duhigg kicked in mostly because he believes in their mission, but also because he agrees with their basic assumption: that what obsessive readers need is not 15 separate apps but a targeted, community-built aggregator, one that cuts through the clutter of click-bait listicles and premium subscriptions to reach the great writers they actually want to read, united in one place. "Centralization of content is a real convenience," he says — a way to satisfy a large but highly fragmented set of readers. "I will read anything Tad Friend writes," he says. "To say there are a million people who like Tad Friend, that's very difficult. But if you amalgamate enough bylines you can get to a million people."
Then again, The New Yorker gets to a million people, too, and it actually pays Tad Friend. Which does raise one issue with Longform's model: How much can it help writers if it skims off their employers? Publications already survive on razor-thin margins, which they routinely preserve by cutting back on long-form journalism itself. (Or defining it down: Longform's own cutoff is 1,500 words, or the once-typical length of a newspaper column.) When you think of operations that make their money largely by aggregating free content — and Longform doesn't make any of its own — what come to mind are click-bait emporia.
"It's a totally justified question: 'What are you doing for publishers?'" says Linsky, before ticking off the benefits. First and foremost, Longform defaults to a publication's webpage on every click, so you'll see its ads and be counted as a reader. You can then opt for a single-page, ad-free "Read View," which is less ideal, but Linsky says magazines have always asked into the app, not out — calculating that the extra clicks are worth any lost ad-eyeballs. A couple of publishers confirm that impression, reporting a Longform bump on big stories (though nothing on the order of social media or HuffPo).
Just as important, says Lammer, "we're putting their best work forward. If you're gonna read a New York Magazine story for the first time, let it be a big feature, not the fourth or fifth Vulture story of the day." [Ahem.] Linsky likes to compare single page views to "subprime mortgages," artificial traffic boosts that hurt quality and will ultimately leave advertisers unimpressed. Their "most popular" algorithm rewards stories that readers actually finish — the longer the better. "We're trying to be anti-clickbait, basically."
Linsky and Lammer say they value readers, writers, and publications equally, but the first two are really at the core of their philosophical pitch. Having begun by aggregating their own picks, now they're giving readers and writers (who'll share their own favorites) the tools to do the same: every reader a publisher, every writer a magazine. A new philosophy requires a different business model. Linsky pitches advertisers not on clicks but on "engagement." He boasts an ad click-through rate between 5 and 10 percent — much higher than the internet average. Longform's app will support itself on native advertising, largely promoted packages of older stories nestled among the "Most Popular" links. Its first two sponsors are the game company EA Sports (a selection of soccer stories in honor of its new FIFA game) and Warby Parker ("Reading Prescriptions" for books complete with iBooks buy buttons). They hope to bring book publishers onboard, too, promoting books directly to subscribers who already "follow" their authors.
That "writer-as-brand" ethos is appealing, but it doesn't work too well at the sub-Gladwell level. "We don't expect everyone will come in with a list of their favorite 50 writers," Lammer says. And the success of a free, ad-supported app might depend more on volume than engagement. Hence the million-reader goal—and, along with it, a more flexible definition of "long-form." Already, the "most popular" tab is getting more hits than the curated "staff picks," the core of Longform's website. Last week it featured a long review of the iPhone 6 that its staff wouldn't have picked. If you follow a writer, you'll see stories much shorter than the general 1,500-word cutoff — though Linsky would change the emphasis on what they do from "long-form" (never mind the name) to "what we used to think of as 'articles'" — just real stories that require some time and concentration.
Reaching for business analogues, Linsky and Lammer at various points invoke Twitter, Spotify, Netflix, Hulu, Pocket, Flipboard, and even, in a narrow sense, Wikipedia. The wealth of surface comparisons points to a dearth of meaningful models, which suggests that the app has found either a genuinely new niche or none at all. "The biggest risk," says Duhigg, "is not from their competitors but from the marketplace overall. Do people want to read long-form? I think the answer is yes." He's right, of course, but do they want to read so much of it so badly that they need a new app for it? If they do, it won't just be Longform celebrating.