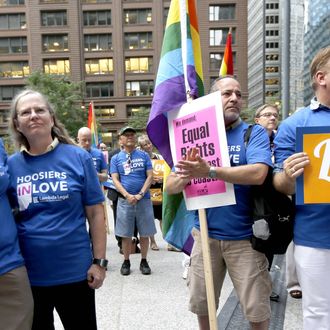 Photo: Charles Rex Arbogast/AP/Corbis
Same-sex marriage bans in Wisconsin and Indiana were overturned by the 7th circuit court of appeals on Thursday afternoon, according to Talking Points Memo.
Circuit judge Richard Posner wrote in his ruling that same-sex marriage bans are "unconstitutional" because "discrimination against same-sex couples is irrational." You can read the full ruling here.
This is a breaking news story and will be updated.