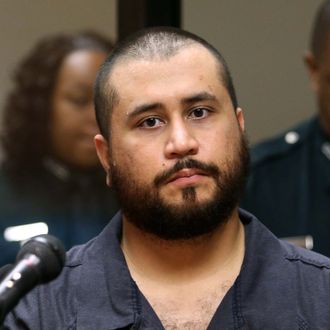 Photo: Joe Burbank-Pool/Getty Images
Killing an unarmed black teenager is sort of like having a sex tape, according to George Zimmerman's fame-hungry brother and family "rebranding" expert Robert Zimmerman Jr., who imagines redemption through reality television. "I learn a lot from watching Keeping Up with the Kardashians," Robert tells reporter Amanda Robb in the new issue of GQ, which includes a surprisingly fair and empathetic but still insane look at how the family lives now. "Like, use the shit you've got." Or, in the case of George (Kim) and Robert (Kris?), use the shit cable-news networks will give you.
In exchange for an appearance this year on CNN, the Zimmermans, who live in a safe house (sans George), sleep with their guns and have a "color-coded threat-ID system" — "Code blue: Law enforcement at the door. Code brown: Draw your weapons. Code black: Come out guns blazing." — were given an all-expenses paid three-night stay at two rooms in the Miami Ritz-Carlton:
The Zimmermans seized on their brief stint of subsidized luxury. They ran up a big room-service bill, cleaned out the minibars, got their clothes laundered, made several trips to the spa, treated a party of ten to dinner at the hotel restaurant, and bought swag—from bracelets to bath fizzies—at the gift shop.

Toward the end of their stay, according to Robert, a manager presented him with a bill for $3,600. He says he called CNN, outraged, only to have the producer accuse them of splurging shamelessly on CNN's dime. "You and your brother are evil!" he remembers her screaming. The hotel manager threatened to call the police. Alone in his room, Robert started shaking. He wrapped all the blankets around him, ordered shrimp, chain-smoked cigarettes, got roaring drunk. Nothing helped. He called his mother in a panic. "I can't get warm," he sobbed. "I just can't get warm."
In true reality-TV fashion (although there were no camera crews), Robert called Dr. Drew to talk him down, but had to settle for a producer. (Seriously.)
As for George, his father tells Robb, he's still scared he could face federal civil rights charges for killing Trayvon Martin, although he's not afraid of the charges exactly: "He's worried that if FBI agents come and kick in his door, he's probably gonna shoot a few of them." Because as the most infamous Zimmerman has made perfectly clear in his time since getting off, he's learned exactly nothing.