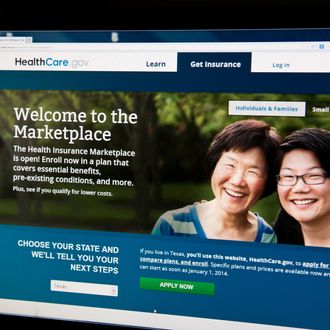 Photo: KAREN BLEIER/AFP/Getty Images
Republicans heading into the midterms just experienced their version of "The Fappening." Federal officials revealed on Thursday that a hacker broke into healthcare.gov in July and uploaded malicious software. According to The Wall Street Journal, they broke into a server used to test code, which was only protected by a default password because it wasn't supposed to be connected to the internet. The hacker never had access to consumers' personal data, and investigators suspect that they weren't even targeting healthcare.gov. It appears the goal was to launch a denial-of-service attack on another site, which requires infecting thousands of computers with malware.
The Journal notes that these types of cyberattacks happen all the time, and usually companies don't disclose them. "If this happened anywhere other than HealthCare.gov, it wouldn't be news," a senior DHS official said. However, since it did happen to the notoriously buggy website that facilitates the use of Obamacare, lawmakers were up in arms. 
Senator Tom Carper, a Democrat, said we need to update our laws to "address our serious cyber challenges," but of course, Republicans had the most to say about the latest problem with healthcare.gov. Representative Darrell Issa called on the head of the Centers for Medicare and Medicaid Services, which runs the site, to testify about security at a hearing this month. Many other Republicans took the opportunity to remind us that they've been wary of Obamacare from the start.
"Despite numerous warnings from myself and other lawmakers that security breaches were possible, HealthCare.gov underwent virtually no independent security testing," said Senator Orrin Hatch. "It's yet another deeply disturbing failure of the president's health law, and once again it is the American people who are bearing the brunt of the law's failures."