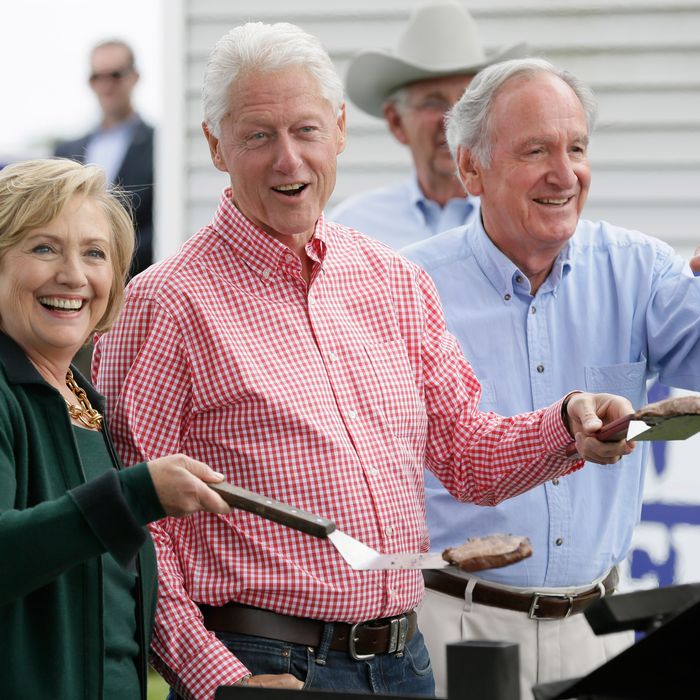 Photo op.
Photo: Charlie Neibergall/AP/Corbis
"Hello, Iowa," said Hillary Clinton at the 37th annual Harkin Steak Fry on Sunday . "I'm baaaaaack!"
It was Clinton's first visit to the caucus state since her embarrassing third-place finish in 2008, and she was acting as if she might not run for president. "I've got a few things on my mind these days. First, and most importantly, Bill and I are on constant grandchild watch. I'm calling Chelsea every five minutes to make sure things are going alright," she said before admitting, "There's that other thing. It is true I am thinking about it."
If the sort-of campaign stop was meant as a dry run, it's because she still needs the practice. From The Economist's report on the event:
Mrs Clinton gamely posed, pretending to grill a steak that had been pre-cooked for her. After briefly ducking into a small building, she emerged to exchange some careful banter with reporters.
A real pro was also on hand:
Ex-President Bill Clinton could hardly be dragged from the press, cheerfully ignoring aides who kept calling "OK, guys, thank you" to reporters …
And from the Times:
Yet for all the effort to shine a rhetorical light on Mrs. Clinton, it was Mr. Clinton who seemed most happy to be back on the grand stage of presidential politics. […] After indulging a few questions, Mrs. Clinton drifted away, and the grill-side session soon became the Tom and Bill Show. Mostly it was the latter.
As Ana Marie Cox put it at the Daily Beast, "There's being in someone's shadow and then there's being compared with a demigod."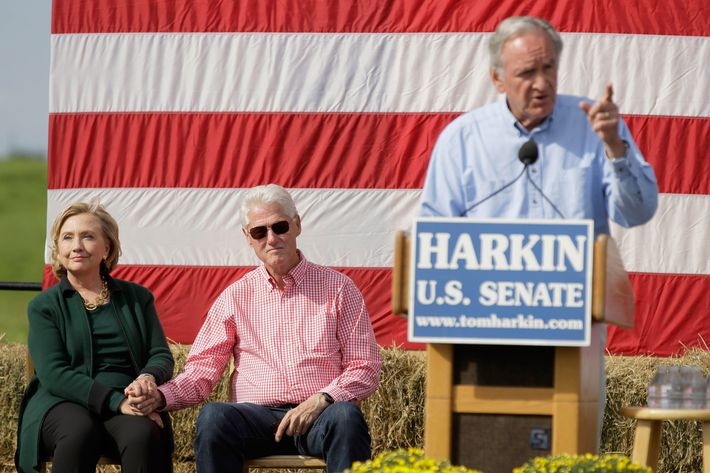 Nonetheless, there were selfies and smiles:
And Hillary insisted she was there mostly to stress the importance of the midterm elections. "Too many people only get excited about presidential campaigns," she said. "Look, I get excited about presidential campaigns, too. But those campaigns only happen every four years." Not that she's been counting down or anything.
"It's really great to be back," she told the Iowans gathered at the end of her not-a-stump-speech. "Let's not let another seven years go by."
And the local reaction? Perhaps the Des Moines Register said it best: "Lots of people, not enough toilets, at Harkin Steak Fry."