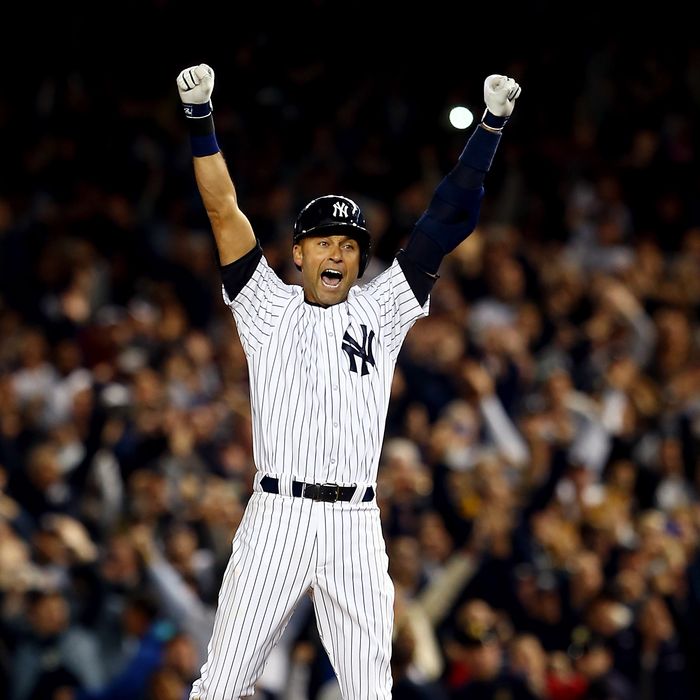 Derek Jeter.
Photo: Elsa/2014 Getty Images
Derek Jeter's final home game got off to an awkward start. Just as the bleacher creatures in right field started calling the shortstop's name one last time during the nightly roll call, Baltimore lead-off hitter Nick Markakis homered into the second deck. (More awkward still: Jeter acknowledged the chant just as Markakis passed in front of him while rounding the bases.) But generations from now, when people discuss Jeter's final game at Yankee Stadium, they won't be talking about how it began; they'll be talking about how it ended.
The biggest difference between Mariano Rivera's farewell tour in 2013 and Jeter's in 2014 is that Rivera was still at the top of his game last year. Especially as the season wound to a close, I looked forward to watching Rivera pitch, to seeing his cutter in action as he closed out another win. But it's been hard to watch Jeter this season, and his struggles had only gotten worse in August and early September. I wasn't totally ready for Rivera's retirement; I was ready for Jeter's.
But short of Jeter hoisting the World Series trophy, it's hard to imagine a better Yankee Stadium farewell than what happened on Thursday night.
Jeter's double off the wall in the first inning drove in a run, delighting the fans at Yankee Stadium, which was uncharacteristically full at the start of the game, precisely because no one wanted to miss a moment like that. (Some of those fans had paid hundreds of dollars on the secondary market to sit in nosebleed seats.) Jeter's night wasn't perfect: He made an error, and for a while it looked like he'd have driven in the winning run in his final at-bat, but on an unsatisfying broken-bat grounder.
But once Baltimore scored three runs in the ninth to tie the game, everyone in the ballpark understood what could happen in the bottom half of the inning, with Jeter due up third. When Jose Pirela singled to start the inning, the crowd started buzzing, everyone thinking two steps down the line. And so when Brett Gardner sacrificed a pinch runner to second, Jeter had his opportunity. And on the first pitch he saw — the last one he'll ever see at Yankee Stadium — he provided one final, great Yankee Stadium moment.
The crowd exploded when Jeter's hit got through the infield, then again when the run scored, and every few seconds from that point on, something else would trigger another eruption: Jeter embracing a former teammate like Rivera or Jorge Posada, or walking alone out to short one last time, or addressing the fans after the celebration died down, or getting a bucket of Gatorade dumped on his head. Some fans even stayed late to watch Jeter's post-game press conference on the center field scoreboard, clapping for thoughtful answers and laughing at his jokes. (Among the topics covered: how emotional he's been in recent days, and how he won't play shortstop in the Yankees' final series of the season this weekend at Fenway Park, instead serving only as a designated hitter.)
The highlight reel of Jeter's career has always been a mix of legitimately big plays in critical situations (his leadoff homer in the 2000 World Series, his "Mr. November" walk-off in Game 4 of the 2001 World Series, the famous "flip play" against Oakland in the 2001 ALDS), or moments in lesser situations that show off his flair for the dramatic (diving into the stands in a heated regular-season game against Boston in 2004, or homering for his 3,000th hit). Moments like these have long added to his legend, just as much as his any statistical achievements or intangible qualities for which he's celebrated. So if you didn't watch last night's game live, don't worry: You'll be seeing replays of Jeter's game-winning hit forever.