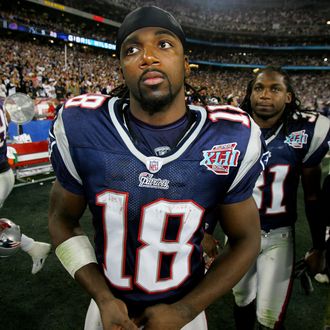 Stallworth in his non-blogging days.
Photo: Streeter Lecka/Getty Images
The new national security reporter at the Huffington Post, under the six-month politics fellowship program, sure is strange: Donte' Stallworth, once a wide receiver in the National Football League, is now apparently pursuing a career in journalism. Although he's only ever published two articles (both about football), Stallworth reportedly got chummy with political reporters, including Glenn Greenwald, based on his prolific Twitter account. That's also where he shared his September 11 conspiracies.
"You know, that was five years ago, and people say dumb things, but that shouldn't define him," HuffPost Washington bureau chief Ryan Grim told Poynter. (People also do dumb things: Stallworth served about three weeks in prison, mid-football career, after pleading guilty to second-degree felony manslaughter for striking a pedestrian while drunk.)
But he's definitely over the 9/11 truther stuff now:
"I really didn't have knowledge other than from a couple of sources," Stallworth said to the Washington Post's Erik Wemple today. "Once I got out of that rabbit hole and started doing my own research … I just understood what a massive intelligence failure 9/11 was … My whole thought process changed on it once was able to dig in and research more about it." He will be paid, albeit not much, for his work, just like the other fellows.
And yet, somehow, Stallworth is not the most questionable HuffPost employee of the day: Gawker reports that 29-year-old former managing editor Jimmy Soni, once Arianna Huffington's chief of staff, was quietly pushed out (although he remains a "consultant" for the site) amid allegations of sexual harassment. Soni, according to employees, used the editorial fellowship program as his personal dating pool, personally stacking it with blonde women. Stallworth doesn't seem like his type anyway.