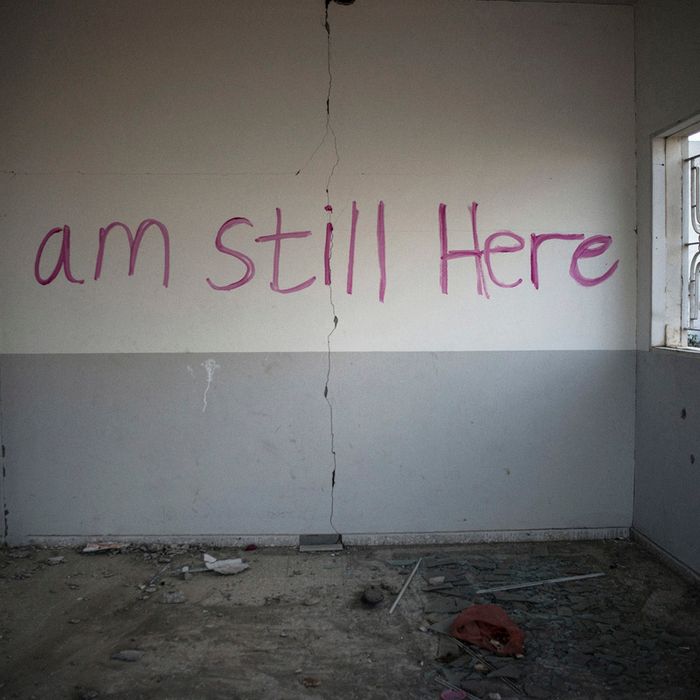 Osama, a Palestinian coast guard, said it would be much easier to rebuild had his house been destroyed completely. Now, he will have to bear the cost of knocking it down. Gaza City.
Photo: Eloisa d'Orsi
Eloisa d'Orsi is quick to admit that she hasn't spent much time in the Middle East and wasn't very knowledgable about the Israel-Palestine conflict when the latest Israeli operation in Gaza broke out. The French photojournalist — who has also covered the crisis in Ukraine and Syrian refugees — was at home in Spain, and found herself looking at the devastation in Gaza, wondering whether she was getting the full picture. The way to see what was truly happening for herself, she decided, was by taking a trip to Gaza and doing fieldwork.
Once in Israel, d'Orsi first went to the West Bank and entered Gaza through the Erez Crossing during the August 10 cease-fire. "It felt like being in Stalingrad," she writes. "Whole neighborhoods had been leveled." On her trip, d'Orsi visited Gaza's southern regions and the hardest-hit neighborhoods of Gaza City. Everywhere she went, d'Orsi writes, locals initially thought she and her companions were representatives of the U.N., the Red Cross, or even Amnesty International.
Over 2,000 Palestinians died in the course of Israel's last offensive in Gaza, and over 17,000 homes need rebuilding. (Often, the Israeli military would send out text message alerts, flyers, or warning shots, telling residents to leave homes minutes before it bombed them.) In d'Orsi's photographs, the range of destruction is evident: some completely obliterated, others damaged beyond habitability. Rebuilding the Strip may run up a tab of over $7 billion.
In Gaza, d'Orsi photographed ordinary civilians with what remained of their homes. Often, she says, they would sleep in the rubble of their homes, or on what remained of their roofs. Barefoot children walked around amid the destruction.
At first, d'Orsi was confused about why her subjects were eager to portray themselves as victorious in the photographs, even when they were next to slaughtered sheep and destroyed houses. But at the end, she understood: There was a power in surviving, in reconstructing, and in staying where they are. In a sense, the Palestinians are saying that after it all, "I'm still here."