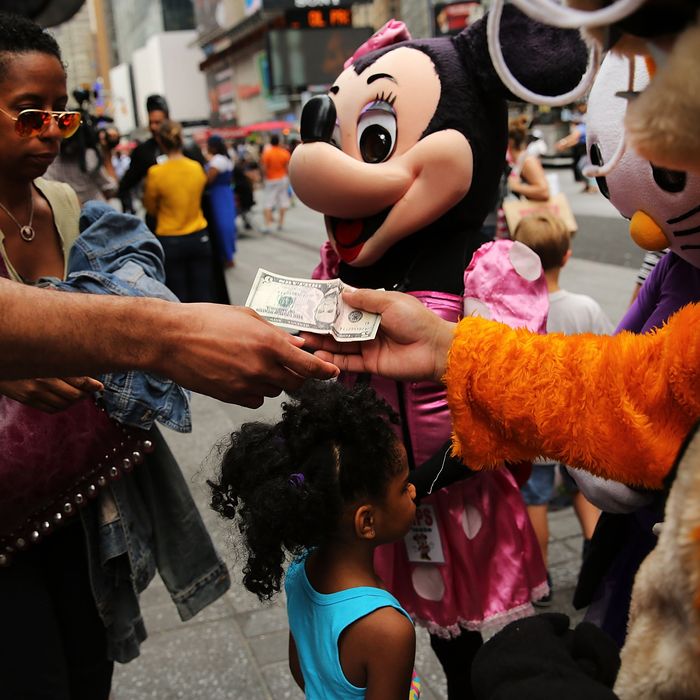 Photo: Spencer Platt/Getty Images
India's leaders are planning to bring a little piece of New York to Mumbai soon, by re-creating Times Square in a local historic district. 
The country's tourism minister, Sripad Naik, hopes to make south Mumbai's Kala Ghoda neighborhood a "hub of heritage and culture." Because if there's anything New Yorkers know, it's that Times Square is exactly that. 
Plans for the artsy neighborhood include giant electronic billboards and a TKTS-style staircase-to-nowhere where visitors can lounge and mug for cameras that display their likenesses onto overhead Jumbotrons.
Fully replicating the Times Square experience, of course, requires adults in creepy costumes, and planners are hoping to have characters "from the cinemas of India and cartoons by Indian cartoonists" wandering the site. (No word on whether they will be violence-prone.)
Yet Quartz reports that the Indian government is only planning on investing $800,000 in the initial phase of this project, which raises the question of how, exactly, this will all be executed.
The best hope for stopping the plan may lie in Hindu-nationalist prime minister Narenda Modi's visit to New York later this month. Perhaps seeing the real thing will change his mind?