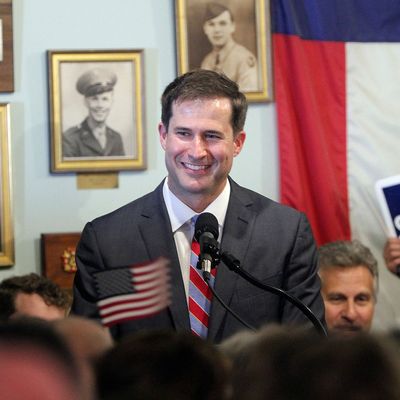 Moulton speaks during his election night party in Salem, Massachusetts.
Photo: Chitose Suzuki/AP/Corbis
Primary season came to a close on Tuesday night with one last upset: Representative John Tierney was defeated in the Massachusetts Democratic primary, making him the fourth member of Congress to lose his seat this year. Seth Moulton, an Iraq veteran and Harvard Business School graduate, won the race with 49 percent of the vote to Tierney's 41 percent, with 100 percent of precincts reporting.
In recent years, Tierney, who was elected in 1996, has dealt with a gambling scandal involving his family, but Moulton focused on portraying him as part of what's wrong with Congress. "Our win tonight says two things. First, that we're fed up with gridlock in Congress. Seriously fed up," Moulton said in his victory speech. "And, second, that voters want to keep this seat blue."
In November, Moulton will face Richard Tisei, a former state senator and openly gay Republican, who nearly beat Tierney in 2012. While Moulton's win is embarrassing for Washington Democrats like Senator Elizabeth Warren and House Minority Leader Nancy Pelosi, who endorsed Tierney, Moulton may have a better shot at defeating Tisei.
Moulton has an unusual backstory. His parents were former Vietnam protesters who struggled with his decision to join the Marines. His mother, Lynn, told Boston Magazine that when he announced he planned to enlist, her first thought was, "There was no career choice he could have made that would have made me more unhappy, except if he had chosen a life of crime."
He eventually served four tours of duty in Iraq, though he said in his introductory campaign video that he opposed the war. Moulton is only 35 years old, which, as the Washington Post notes, will make him one of the youngest members of Congress if he wins in November.