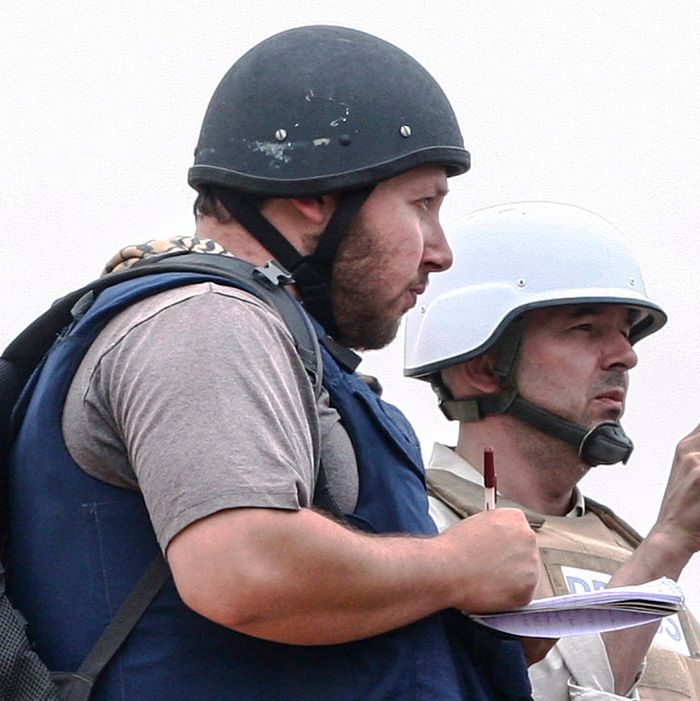 Sotloff, in blue.
Photo: Etienne de Malglaive/Getty Images
ISIS has beheaded a second American citizen, freelance journalist Steven Sotloff, and posted the gruesome footage on social media, according to information obtained by the SITE Intelligence Group and reported by the New York Times.
The 31-year-old American, who was writing for publications like Time magazine and The Christian Science Monitor, was kidnapped in northern Syria last year.
Reports of his death come two weeks after ISIS flooded social media with a video of an ISIS fighter with a British accent beheading photojournalist James Wright Foley. At the end of that clip, ISIS promises to behead Sotloff if the American government does not acquiesce to its wishes.
In the latest video, Mr. Sotloff describes himself as "paying the price" for the Obama administration's decision to strike ISIS targets in Iraq. The same masked fighter who appeared in the video of Mr. Foley's beheading also appears beside Mr. Sotloff, asserting, "I'm back, Obama, and I'm back because of your arrogant foreign policy towards the Islamic State."
The clip ends with a threat against British captive David Haines. The militants are thought to be holding at least two more American hostages, including a 26-year-old woman who was carrying out humanitarian aid in Syria when she was captured last year. ISIS has reportedly demanded a $6.6 million ransom for her release.
Last week, Sotloff's mother made the rare decision to appeal directly to ISIS. "I ask you to use your authority to spare his life and to set the example of the Prophet Mohammed, who protected people of the Book," said Shirley Sotloff in a video addressed to militant leader Abu Bakr al-Baghdadi. "I want what every mother wants: to live to see her children's children. I plead with you to grant me this."
However, government sources told The Wall Street Journal that Sotloff may have been killed right after Foley, and Haines could be dead already as well:
Some U.S. government officials believe that Mr. Sotloff was likely killed immediately after Mr. Foley in August, and that militants delayed the release to heighten the impact of the video, the U.S. official said Tuesday, after viewing the video.

The official said Mr. Haines, the British hostage shown in the Sotloff video, has also likely been killed.
A journalist appeared to break the Sotloff news to White House press secretary Josh Earnest during a Tuesday afternoon briefing captured in the video below. Earnest said he could not yet verify its authenticity.
The Times also has a profile of Sotloff as he lived:
"The guy lit up a room. He was always such a loyal, caring and good friend to us," Josh Polsky, who shared a dormitory suite with Mr. Sotloff, said in a telephone interview. "If you needed to rely on anybody for anything he would drop everything on a dime for you or for anyone else."

Emerson Lotzia Jr., another former college roommate, said that Mr. Sotloff was undeterred by the risks of Middle East reporting. "A million people could have told him what he was doing was foolish, it seemed like it to us outsiders looking in, but to him it was what he loved to do and you weren't going to stop him," Mr. Lotzia told Central Florida Future on Wednesday. "Steve said it was scary over there. It was dangerous. It wasn't safe to be over there. He knew it. He kept going back."
Colleagues are choosing to remember his work rather than spread the propaganda video:
This post has been updated throughout.