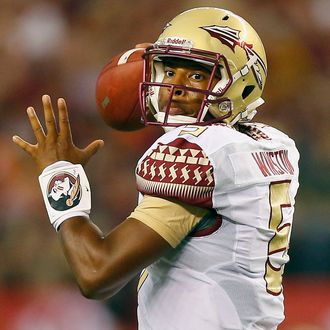 Photo: Tom Pennington/Getty Images
What gets you suspended at Florida State? Not a rape accusation, which barely jeopardized quarterback Jameis Winston's Heisman campaign last year. But screaming an incendiary meme phrase on your college campus? That's a half-game suspension, buddy.
USA Today reports that Florida State University has suspended Winston for the first two quarters of the team's game against Clemson on Saturday for standing up on a table on the school's campus and shouting "Fuck her right in the pussy," a totally unfunny internet meme that originated as a hoax. 
So, to recap: Being embroiled in a botched rape investigation? Win a Heisman. Shouting an offensive obscenity? You're outta there (temporarily).