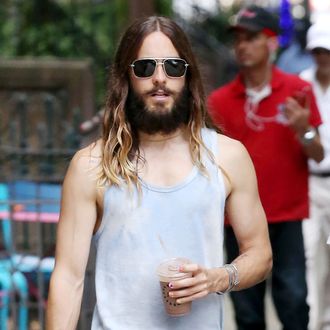 Photo: Splash News/Corbis
Jared Leto and his illustrious mane have joined a $50 million investment in Reddit, the link sharing community/online support group for men who have been friend-zoned. According to GigaOm, Leto joined venture capital firms like Andreessen Horowitz and Sequoia Capital in contributing to Reddit's new $50 million investment. Rapper and prolific Redditor Snoop Dogg (née Calvin Broadus Jr.) also chipped in some dough.
It's interesting that Leto would financially contribute to a site that profited off of the hacked nude photos of fellow celebrities, but maybe when you're allegedly packing an "enormous penis," having your nudes leaked seems like a compliment.