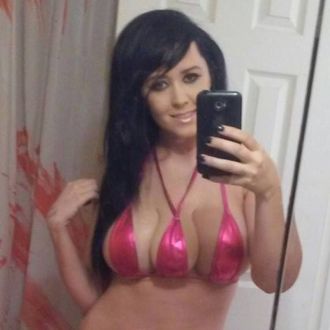 Photo: Jasmine Tridevil/Facebook
Though we had serious suspicions, we wanted to believe so badly that the story of Jasmine Tridevil, the Tampa woman who claimed to have gotten a third boob implanted in order to appear unattractive to men, was real. But now, a final piece of evidence confirms the whole thing was a hoax. 
WTSP has uncovered a stolen luggage report from the Tampa International Airport that lists a "3 breast prosthesis" as part of the baggage. The report was filed by Alisha Hessler, a Tampa-area massage therapist, whom Snopes fingered as the evil genius behind the Tridevil persona. 
This is Hessler's second run-in with viral fame: Back in December 2013, she made a man wear a dunce cap and a sign that says "I beat women" on a busy street corner after he reportedly beat her up. Hessler never followed up with police following the incident.
Sorry, dudes: It appears your Total Recall sex fantasies have been temporarily sidelined.