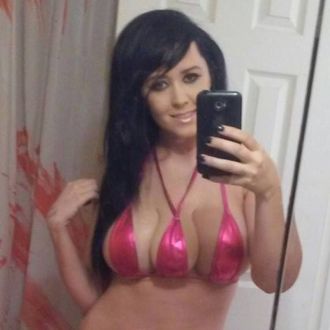 Photo: Jasmine Tridevil/Facebook
A Florida woman who goes by the name Jasmine Tridevil figured out that there is really only one acceptable reason to get a third breast: to buck traditional beauty standards and purposely make yourself unattractive to men.
The 21-year-old massage therapist claims she had to ask over 50 doctors to perform the surgery, which involved taking skin tissue from her abdomen and adding a silicon implant. She also got an areola tattooed on. The procedure cost $20,000, and Tridevil reportedly had to sign an NDA so couldn't disclose what doctor performed it.
"I got it because I wanted to make myself unattractive to men," Tridevil said on a recent radio broadcast. "Because I don't want to date anymore."
Given the fact that most men love boobs, I'm not entirely sure getting another one is the fastest route to unattractiveness, but her attempted commitment to misandry is commendable. Meanwhile, the photos look kinda 'shopped, so I'm really hoping this isn't some sort of viral marketing scheme for American Horror Story: Freak Show.
Update 5:35 p.m.: Snopes has some interesting new details to add to the mystery of everyone's favorite three-boobed internet sensation. Though the story still isn't confirmed as real or fake, Snopes points out a few inconsistencies in Tridevil's account.
First, there are no third-party photos or videos taken of Tridevil's third breast, nor are there any photos showing it uncovered. Plus, most of the information we've gotten about Tridevil so far comes directly from her Facebook or YouTube accounts.
Perhaps most damning, though, is that "JasmineTridevil.com" is registered to Alisha Hessler, another Tampa-area massage therapist who bears an uncanny resemblance to Tridevil herself. Hessler made the news in December 2013 for forcing a man who reportedly beat her up to wear a dunce cap and an "I beat women" sign on a busy street corner. She never actually filed charges or followed up with the police with details of the attack. 
At least we know that this story about a woman with three breasts has to be at least two thirds real.
Update 11:55 p.m.: Here's some more evidence to consider, courtesy of 10 News Tampa. Tridevil agreed to an interview with the local TV station on the condition that they only discuss the self-produced reality show she hopes will be picked up by a cable network. She quickly lifts her shirt in the report, but as 10 News puts it, "When asked her why we couldn't have a longer look Tridevil responded, 'I'm not ready to do that right now because it's in episode six of my show.'"
Update 9/23: The Story of the 3-Boobed Lady Is As Fake As Her Third Boob