New York Knicks owner Jim Dolan's band JD and the Straight Shot has been all over the place in recent days, and the media tour's been every bit as ridiculous as you might expect. Today's stop was an appearance on Fox 5's Good Day New York for both an interview segment and multiple performances. It was thoroughly awkward.
Here's a clip of the band performing, which includes a goofy kazoo solo by Dolan, because of course it does:
The beginning of the song is cut off in that clip, but Deadspin has the full thing. Part of it is about Chris Christie, and it includes the following lyric:
"If you have lunch with the governor, be careful what you say / cause if you insult the governor he'll close your highway."
(Take it from someone who's seen this band in concert: That line is par for the course. Dolan has little use for symbolism in his lyrics.)
Among the other highlights: Co-host Rosanna Scotto forgetting the name of Dolan's band. Dolan laughed it off, but he was no doubt crying on the inside.
Dolan also sat down for an interview. Via Deadspin, he made himself at home: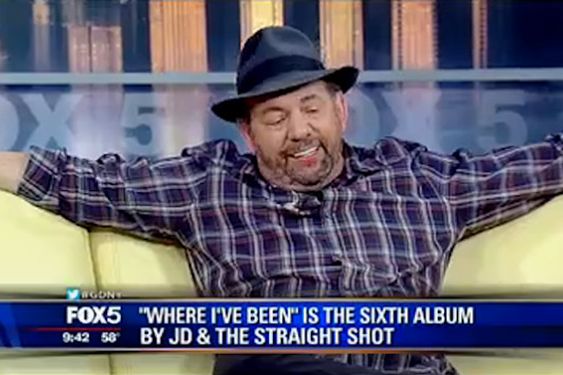 Today's appearance comes on the heels of two newspaper interviews last week in which Dolan plugged both his band's new album as well as their gig opening for the Eagles (whose manager is a business partner of Dolan's) at Madison Square Garden (which Dolan owns). Being a billionaire sounds like fun.
The New York Times interview from last week was full of nuggets like this one:
On his new album, "Where I've Been," Dolan croons about politics and race, love and mortality. One song called "Under That Hood" explores the shooting death of Trayvon Martin, which Dolan said he considered an American tragedy. ("It's all good/Under my hood/So misunderstood," goes the chorus.)

"There's literally nowhere I won't go," Dolan said in an interview.
Or this one:
He sings scales on his way to work in the morning. ("I am willing to do it no matter who is in the car," he said.) He takes weekly voice lessons from Don Lawrence, a noted instructor. ("He's Mick Jagger's vocal coach," he said.) And he continues to carry around a journal to jot down lyrics whenever inspiration strikes. ("I'm an artist, and an artist doesn't worry about being politically correct when I write," he said.)
Laugh all you want, but the more time Dolan spends playing rock star, the less time he has to meddle with the Knicks.