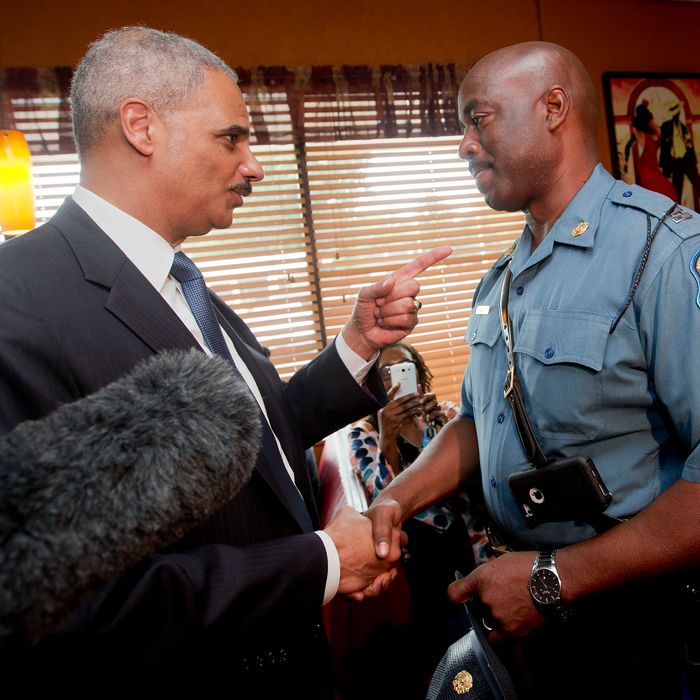 U.S. Attorney General Eric Holder talks with Captain Ron Johnson of the Missouri State Highway Patrol.
Photo: Pablo Martinez Monsivais-Pool/Getty Images
Following reports that police officers in Ferguson, Missouri, have racially profiled African-Americans, pistol-whipped children, hog-tied a 12-year-old, threatened protesters at gunpoint, arrested journalists, charged a man they beat for getting blood on their uniforms, and ranted about minorities in their spare time, the federal government has started to suspect that the department may be guilty of civil rights abuses. Two law enforcement officials told the Washington Post on Wednesday that the Justice Department plans to launch a broad investigation into the Ferguson police department's practices, including officers' training, use of force, and patterns of stops and arrests over the past few years.
The civil rights investigation will be separate from the Justice Department's ongoing criminal probe into the fatal shooting of Michael Brown by officer Darren Wilson. It may eventually be expanded to include other St. Louis County departments.
The investigation, which could be announced as soon as Thursday afternoon, will be the federal government's most aggressive response to the shooting, though "pattern-and-practice" probes are not uncommon. The Justice Department's civil rights division was given the authority to conduct such investigations by a 1994 law passed in response to the Rodney King beating. Police department reviews have doubled under Attorney General Eric Holder, and there are currently at least 34 departments across the country being investigated for civil rights abuses.
The Justice Department may file a lawsuit against the offending police department, but the investigations usually result in court-approved consent decrees, in which the department agrees to policy changes and more oversight.
The Post notes that the investigations are sometimes "collaborative arrangements" with police chiefs encouraging reform. Ferguson's police chief, Thomas Jackson, indicated that his department is open to suggestions. "We've been doing everything we can to become a professional police department and a professional city," he told the New York Times. "We have no intentional policies or procedures which discriminated or violated civil rights. But if we have anything there which may unintentionally do that, we need to know about it."
Jackson added that he has already met with Justice Department officials to discuss the new investigation. "Obviously, we have gaps. And any help we can get to help fill those gaps and to make ourselves stronger, we welcome," he said.