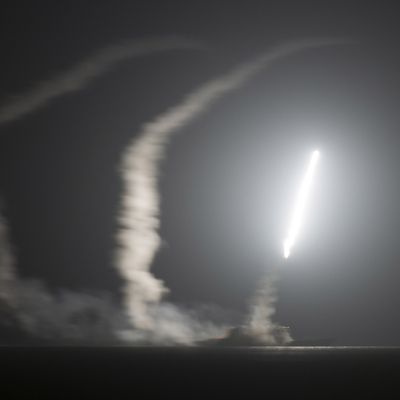 U.S. bombs in Syria.
Photo: Mass Communication Specialist 1st Class Eric Garst/U.S. Navy via Getty Images
While ISIS has captured international attention with its very public, bloodthirsty tactics, a terrorist group some American officials say is more intent on actually striking the United States is operating in the shadows, and on the margins of the national security conversation. Identified only this month as the Khorasan group, veteran Al Qaeda fighters now based in Syria, the cell is "potentially yet another threat to the homeland, yes," said director of national intelligence James Clapper last week, adding that "in terms of threat to the homeland, Khorasan may pose as much of a danger as the Islamic State." Or, based on last night's surprise bombings, an even greater threat.
U.S. air strikes in Syria overnight targeted ISIS militants in an extensive operation that included assistance from Bahrain, Saudi Arabia, the United Arab Emirates, Jordan, and Qatar, CNN reported, a truly impressive collection of Middle Eastern allies. But relatively quietly, all by itself, the U.S. was also bombing Khorasan targets in the region.
The threat from the Khorasan group was "imminent," multiple intelligence sources have told a variety of news outlets. According to CNN, the U.S."had very good information" about a potential attack — Khorasan was near the "end of their planning." By striking last night, the U.S."hoped to surprise the group by mixing strikes against it with strikes against ISIS targets."
Wait, who?
Great question — leader Muhsin al Fadhli, for one, although additional details are extremely scarce. The "short and slight Kuwaiti," like many ISIS fighters, is very young, but at 33, he's been at this a long time.
Officially designated a terrorist in 2005 for his work as "a major facilitator" for Al Qaeda and Abu Musab al Zarqawi, al Fadhli had previously been in Osama bin Laden's inner circle and, according to the Treasury Department, was "reported to have been among the few trusted Al Qaeda operatives who received advance notification" of the September 11 attacks. He spent time among Al Qaeda operatives in Iran after 9/11.
But beyond its leader, not much is known about the group, the New York Times reported yesterday, just ahead of the first U.S. attacks on Khorasan fighters:
There is almost no public information about the Khorasan group, which was described by several intelligence, law enforcement and military officials as being made up of Qaeda operatives from across the Middle East, South Asia and North Africa. Members of the cell are said to be particularly interested in devising terror plots using concealed explosives. It is unclear who, besides Mr. Fadhli, is part of the Khorasan group.
"Khorasan," the AP reported in the first extensive look at the group, "refers to a province under the Islamic caliphate, or religious empire, of old that included parts of Afghanistan."
Where did they come from?
Afghanistan, Yemen, Syria, Pakistan, and Europe, according to the AP. While Fadhli initially spent time with the Al Qaeda affiliate Al Nusra in Syria, his previously relationship with Iran may have strained that connection. Rep. Adam Schiff of the House Intelligence Committee referred to the group earlier this month only as "an unholy mix of people in Iraq and Syria right now — some who come from AQAP, some who come from Afghanistan and Pakistan, others from the Maghreb" in North Africa.
And Khorasan is looking to ISIS for growth potential:
The source says al Fadhli is trying to emulate the success of ISIS in using social media to recruit Westerners – people who could be trained and then sent home to launch terror attacks. To this end, al Fadhli has been able to recruit a member of ISIS' media team to help with recruitment for Khorasan.
What do they have planned?
"External operations," based on information from one of al Fadhli's bodyguards, who was recently arrested by pro-Assad forces in Syria. From CNN:
U.S. intelligence officials are concerned that the Khorasan cell may include operatives who have learned from Ibrahim al Asiri, the master bombmaker of al Qaeda in the Arabian Peninsula, who has twice come close to bringing down Western airliners with ingeniously devised bombs. Counterterrorism sources have frequently told CNN in recent years of their fears that al Asiri has passed on his skills to apprentice bombmakers.
What are we doing about it?
As a result of the bomb threat, the AP reported, "the Transportation Security Administration in July decided to ban uncharged mobile phones and laptops from flights to the U.S. that originated in Europe and the Middle East."
And then there's the bombings. Eight strikes were conducted last night, according to a statement from U.S. Central Command, on "training camps, an explosives and munitions production facility, a communication building and command and control facilities." Those actions, we can only hope, served "to disrupt the imminent attack plotting against the United States and Western interests."
But reports are still mixed about how successful those strikes were: