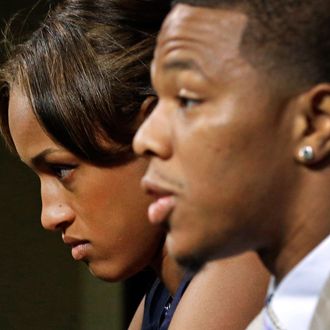 Photo: Patrick Semansky/AP/Corbis
For those who'd like to feel even more sick than they did after watching TMZ's video of Ray Rice punching out his then-fiancée Janay Palmer: The Associated Press reports that law enforcement has a longer, clearer version of the elevator surveillance camera footage, complete with audio. In this recording, which was shown to an AP reporter but does not appear to have made its way online yet, a viewer can hear Rice and Palmer "shouting obscenities at each other" and see Palmer "[appear] to spit in [Rice's face]" before he knocks her unconscious.
Here's how the AP describes what happens after Rice begins pulling Palmer's limp body out of the elevator:
The higher-quality video shown to the AP shows Rice made no attempt to cover up the incident. After Palmer collapses, he drags her out of the elevator and is met by some hotel staff. One of them can be heard saying, "She's drunk, right?" And then, "No cops." But Rice didn't respond.
Much like Rice's NFL colleagues, it seems that at least a couple of employees of the (since closed) Revel Atlantic City jumped on the opportunity to look the other way.