As it turns out, California civil attorney Svitlana Sangary doesn't know George Clooney or Joe Biden or even Fran Drescher. But she does know how to use Photoshop.
According to the Recorder, a California State Bar Court judge has recommended Sangary be suspended for six months after it was discovered that a bunch of the photos published to the "Publicity" section of her Geocities-esque website were (terribly) Photoshopped to make it look like she's besties with a bunch of celebrities.
The photos, which are still up on her site, show Sangary hanging out with politicians, celebrities, and Anne Hathaway. For some reason, the Bar judge decided that making yourself seem famous is false advertising. (Does that mean everyone on Vine should be thrown in jail?)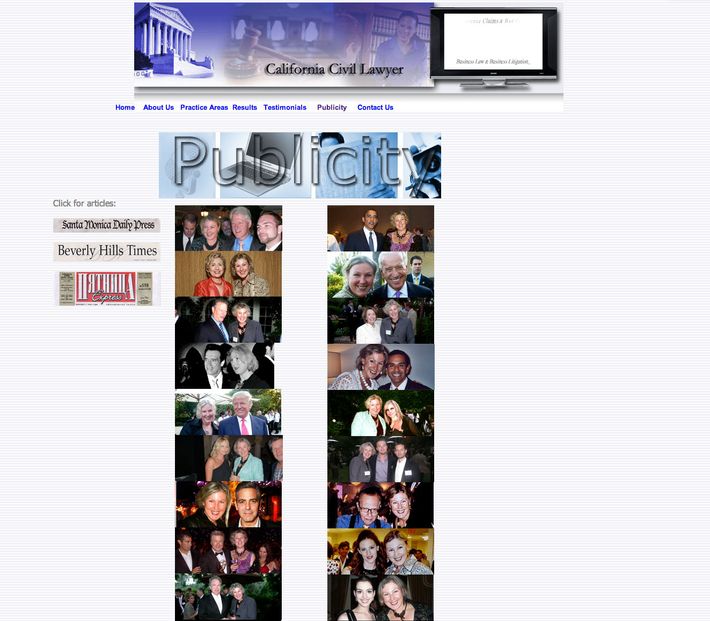 The Bar launched an investigation into Sangary's Photoshop skills several months ago, but she allegedly refused to cooperate, instead sending them an especially confusing document:
The response is attached to 148 pages of exhibits, which include emails, canceled checks, articles about actress Natalie Portman and a fund-raising pitch from the Democratic Party — none of which seem to be relevant to the bar's complaint.

This might explain her one-star Yelp review. "As evidence of the defendant's innocence, I would like to present this photo of Natalie Portman post-baby."