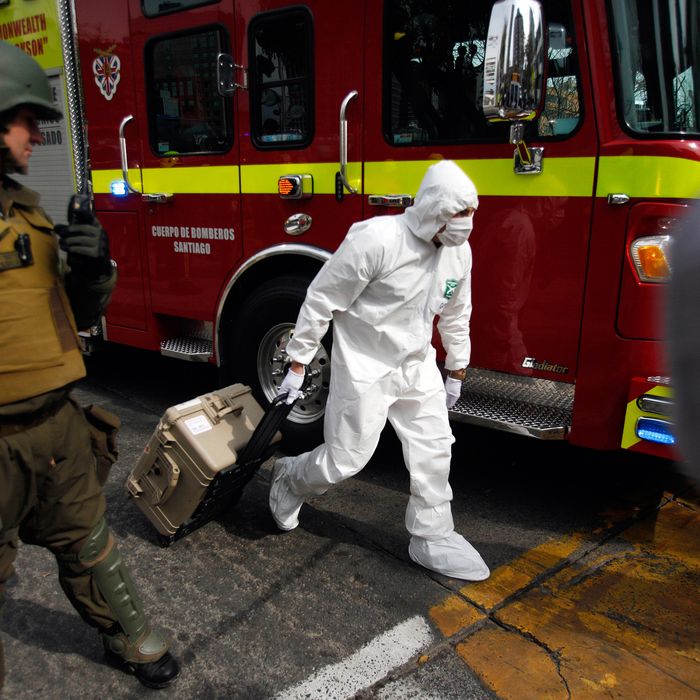 Photo: Luis Hidalgo/AP/Corbis
A bomb explosion at a Santiago, Chile, metro station injured at least seven people during the lunch hour rush Monday. According to the Spanish-language site Soy Chile, two older women were seriously injured in the blast, which occurred in the wealthy, residential neighborhood of Las Condes. 
"This is an act that has all the hallmarks of a terrorist deed," said cabinet minister Alvaro Elizalde, adding that the government is invoking a harsh anti-terrorism law. "[I]t has been carried out with the intention of hurting innocent people."
The incident initially appears similar to some 28 other bombs found around the city this summer. Anarchists have claimed responsibility in some of those cases, demanding the release of two of their colleagues, imprisoned in Spain. According to Reuters, an anarchist activist died earlier this summer while attempting to detonate a bomb.
However, Thursday marks Chile's own September 11, the anniversary of the 1973 military coup by Augusto Pinochet. His brutal, nearly 20-year-long dictatorship sent many Chileans into exile and saw many more "disappear" at the hands of the regime. While most Chileans now condemn the dictatorship, the deceased dictator still has a following among hardcore Pinochetistas, and protests ahead of the anniversary have already seen some violence.