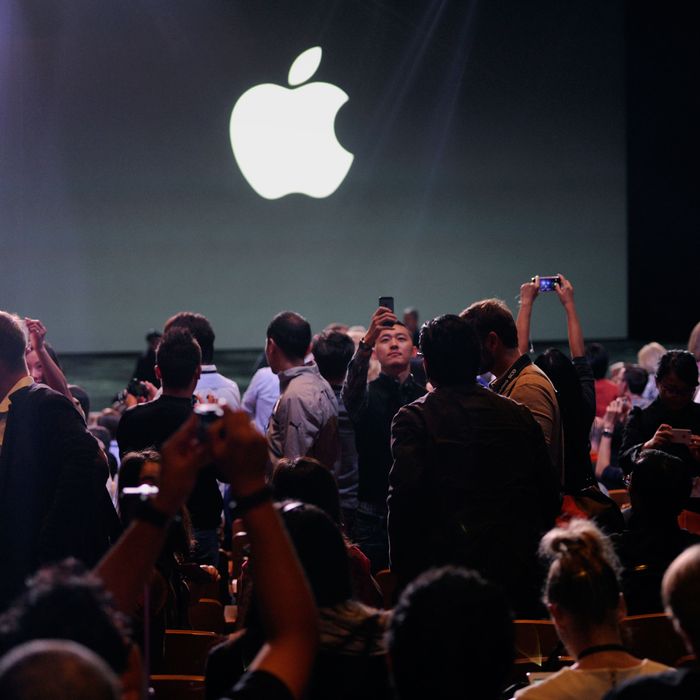 IT'S TIME.
Photo: David Paul Morris/Bloomberg/Getty Images
This morning, thousands of people are flocking to the Flint Center for the Performing Arts in Cupertino, California, to watch Apple unveil some new products. Apple product launches are the closest thing the tech world has to a Super Bowl, and this one is inspiring more pants-wetting excitement than usual. Apple watchers expect the company to reveal a pair of new, bigger iPhones, a wearable device for your wrist, and updates to the iPad, among other things.
Here's the link to watch the Cupertino circus live. (You need Safari installed.) And here's how to play Apple Keynote Bingo from home. Below, we'll be bringing you updates from the event.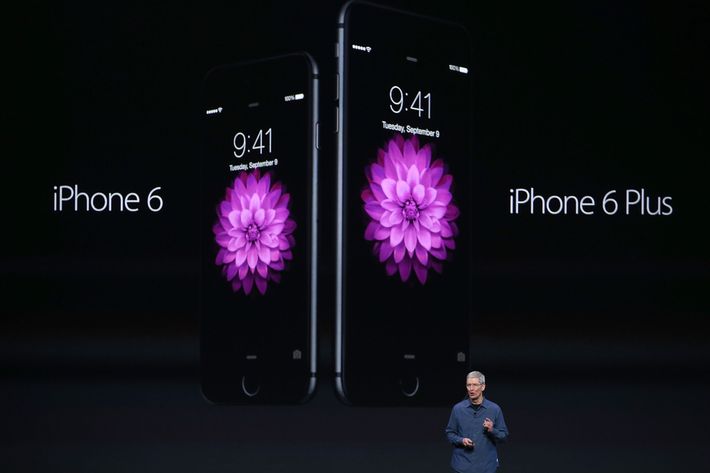 9:54 a.m.: We're ready to go! (And by "we," I mean the tech bloggers who trekked to Cupertino — I'm at home in my sweatpants.) So far, not many hints have emerged about what Apple's going to release today. Although they did serve breakfast burritos, so that's something.
10:08 a.m.: That was quick! Minutes after taking the stage, CEO Tim Cook showed off two new phones – the iPhone 6 and iPhone 6 Plus. Both look pretty much identical to the leaked images that came out before the event. Big screens, rounded edges, next-generation retina displays. "Incredibly unique," says Phil Schiller. "It is truly the most beautiful phone you have ever seen." (It looks like an iPhone.)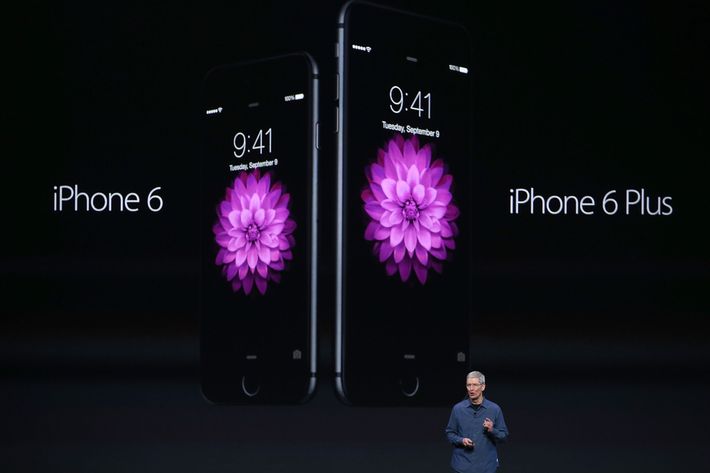 10:18 a.m.: Schiller is now talking about the "scaler" that allows app developers to make apps look good on the big iPhone, as well as the smaller one. More details about the phones: 20% faster CPU, 50% faster graphics than the iPhone 5S, the Plus has two billion transistors (which sounds impressive!) and a new "reachability" feature that will allow you to double-tap the home button to shift the entire screen down, so you can reach the top row of icons on the bigger phones.
10:24 a.m.: A developer from a game studio called the Super Evil Megacorp is on stage to demo the iPhone 6's new graphics chip. It looks good!
10:26 a.m.: Schiller is back on stage, talking about the iPhone's new motion-detecting capabilities. "It can tell when you're walking, running. It can tell how many steps you're running." Schiller also gave details on the iPhone 6's battery life, which he said was "equal or better in every metric than the iPhone 5S." So, it'll last until lunch, basically.
10:30 a.m.: Schiller is now talking about the improved camera in the iPhone 6, which has a new image sensor and optical image stabilizer (on the 6 Plus), so your shaky hands don't mess up your photos. It will also be better at detecting faces, and has a slo-mo mode to add some drama to your videos. Plus: HD selfies!
10:38 a.m.: Pricing details: the regular iPhone 6 will cost $199 (with contract) for a 16GB model, up to $399 for 128GB. The iPhone 6 Plus will be $299 for 16GB, up to $499 for 128 GB. Both will be available on September 19th.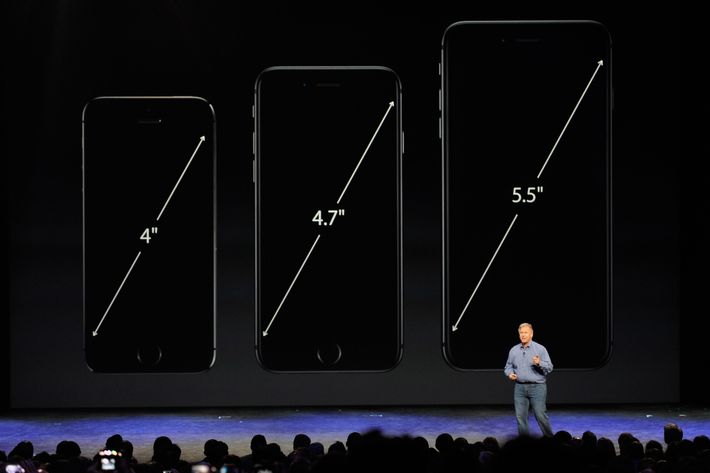 10:44 a.m.: Cook is back on stage now. After showing some videos starring Jimmy Fallon and Justin Timberlake, he gets to another announcement we expected: payments. "Our vision is to replace this," Cook says, pointing to a wallet. "We're going to start by focusing on payments." Cook calls the credit card "outdated," and says that the security codes "aren't so secure." (As opposed to Apple's services, which are totally secure!) "It's no wonder that people have dreamed of replacing these for years," Cook says.
10:47 a.m.: "We've created an entirely new payment process – we call it Apple Pay."
10:53 a.m.: Eddy Cue is detailing Apple Pay, which works by loading your existing credit-cards into an app (either by using the ones you already have on file with iTunes, or by scanning a new one). When you want to pay for something at a store, you simply hold the home button on your phone, and the NFC chip in the phone creates a one-time security code, transmits it to the retailer's receiver, and your payment is applied instantly. Apple Pay will be included in an iOS 8 update next month, and will work at chains including Whole Foods, Target, McDonald's, Subway, and Duane Reade. Pretty slick.
10:57 a.m.: Cook back on stage. "We have one…more…thing…"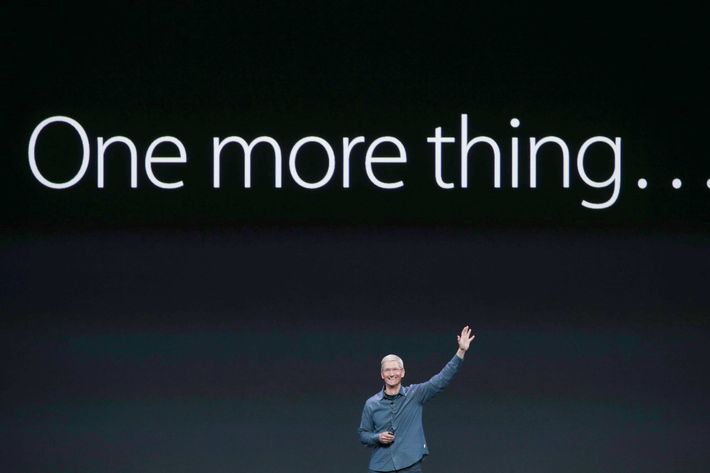 11:00 a.m.: As expected, the "one more thing" is the Apple Watch. "We set out to make the best watch in the world," Cook says. In addition to keeping time, it's also a health tracker. There's an 18-karat gold version. Cook promises it's not just a miniature iPhone strapped to your wrist. The thing that makes the Apple Watch different from other smartwatches, Cook says, is the "digital crown" – a rotating dial on the side of the watch that can zoom into maps, select between menu items, and control all manner of apps.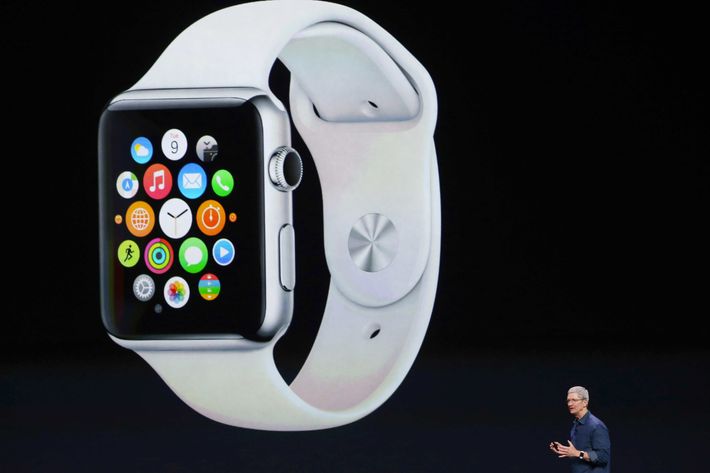 11:05 a.m.: Now for the fashion bit. Jony Ive, Apple's design honcho, is narrating a video about the Apple Watch's blend of style and technology. The watch doesn't look much different than previous watches like the Pebble and the LG G, but maybe I'm missing something. "The digital crown is a remarkable input device," Ive says. You can use the Apple watch to reply to messages, initiate voice calls, or start a new kind of two-way chat with a friend. Not sure about the details of this two-way chat, but Ive says you can tap the watch's face to get a friend's attention, share a fingertip sketch, or even "share a heartbeat" with them. Why you'd want this, I'm not sure.
11:14 a.m.: Apple Watches will come in two sizes, three different types of casing (gold, stainless steel, aluminum), and users will be able to choose from what appear to be a billion different styles of watchband, give or take. This is the most personalized gadget Apple has introduced in years.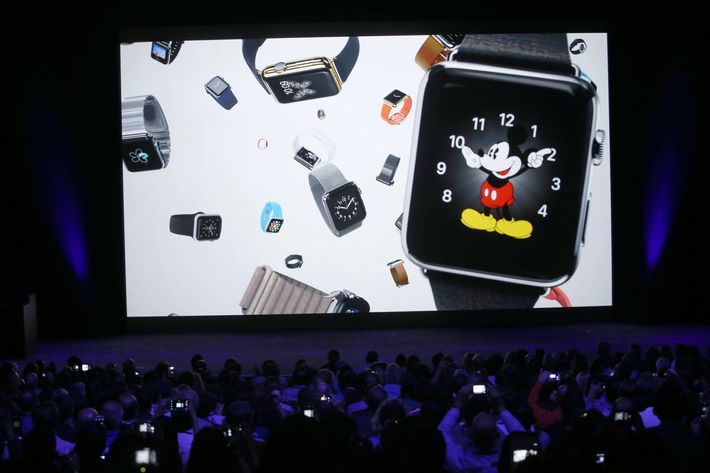 11:19 a.m.: Software executive Kevin Lynch is showing off the Apple Watch's capabilities. "Let's listen to a little Coldplay," he says. TIME TO GET A SANDWICH.
11:21 a.m.: Apple Watches can talk to Siri, display photos, and more. "It's almost like having a little photo locket with you everywhere," Lynch says. Grandmothers in 1965 are very excited about this feature.
11:30 a.m.: More watch features: expansive health-tracking features, vibrations that tell you which way to turn when you're walking to a destination in Maps, a Friends list that shows your top contacts, and allows you to send them vibrations and mini-sketches to let them know, for example, that you're ready to get lunch. The coolest thing about the watches so far, though, seem to be the things third-party developers will be able to build into their watch apps. For example: Lynch shows off a Twitter app that allows you to favorite or retweet a tweet from right on the watch, and a forthcoming app from W Hotels that will allow guests to unlock their hotel rooms right from their watches. (The watches will also work with Apple Pay.)
11:41 a.m.: Cook returns to stage, says that the Apple Watch will be available "early next year" for $349. $349! That's a big number. Then again, the original iPads were expensive, too, and millions of people bought them anyway.
11:46 a.m.: Cook finishes out the Apple Watch announcement, says some stuff about Apple's commitment to music, and then invites U2 on stage to perform. TIME FOR ANOTHER SANDWICH.
11:56 a.m.: Bono and Tim Cook are hamming it up on stage. Cook announces that U2's new LP, "Songs of Innocence," will be sent for free to all 500 million iTunes customers. All of Gen X rises for a standing ovation.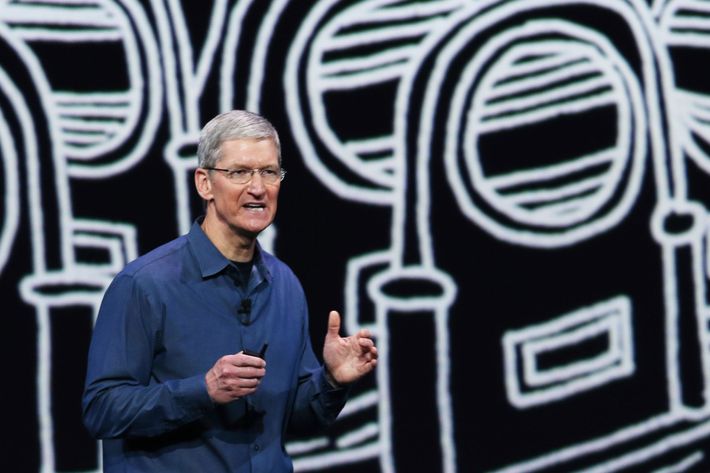 12:00 p.m.: That's a wrap! It still seems like the Apple Watch still has a few question marks. (Is it waterproof? How will it work with Apple Pay, exactly? What's the real battery life like?) But the new iPhones look very solid, and should sell well – Apple customers have been begging for scaled-up versions of the iPhone for years, and now they've got them. Overall, this was a very impressive, glitch-free presentation from Apple – almost like they've been practicing these for years.