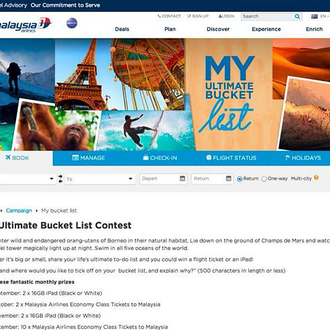 In a freak occurrence, your airline loses two planes in four months, resulting in the deaths of 537 people. All of a sudden, no one wants to fly with you anymore — planes are photographed nearly empty, you're forced to lay off more than a quarter of your workforce, and you can't give seats away. Whoever's in charge of crisis PR offers a suggestion: Let's literally give seats away! Now there's an idea.
The only way it could go wrong is if you were to somehow conjure the very deaths that necessitate such a sweepstakes. Welcome to Malaysia Airlines.
The company that lost flights MH17 and MH370 this year somehow thought it would be a good idea to woo customers with a contest called "My Ultimate Bucket List." As in "kicking the bucket," or things to do before you die. Whoops.
After the offer — 12 round-trip economy-class tickets and some iPads — went public, the unfortunate connection was made by people not being paid to prevent such a thing.
"Malaysia Airlines has withdrawn the title of a recent competition running in Australia and New Zealand, as it is found to be inappropriate at this point in time," the company said in a statement. "The competition had been earlier approved as it was themed around a common phrase that is used in both countries. The airline appreciates and respects the sentiments of the public and in no way did it intend to offend any parties."
The contest has been renamed to get straight to the point, with no room for interpretation: "Win an iPad or Malaysia Airlines flight to Malaysia." You know what? Thanks, but we'll pass.