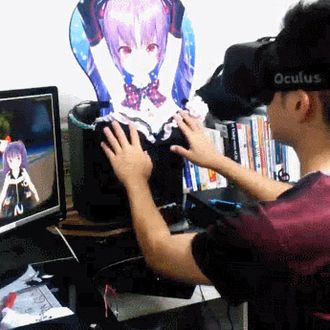 These days, with so much technology at our fingertips, it's rarely a question of why, but instead … why not?
Why not harness centuries of technological prowess to bring your wildest dreams to life? Why not use the groundbreaking world of virtual reality to explore your passions? Why not put your coding skills to the test and lose your boob-touching virginity at the same time?
One user of a Japanese video-sharing site uploaded this fantastic creation, the inevitable product of a brilliant mind, for all to see. It's called Boobie Squeezing Simulator, and it is the future of tech.
Using the powerful virtual-reality device Oculus Rift and a special mousepad shaped like the confusingly large bust of an anime woman, the anonymous user created a boob-grabbing simulator that is sure to disrupt the crowded jerking-off-at-your-computer space.