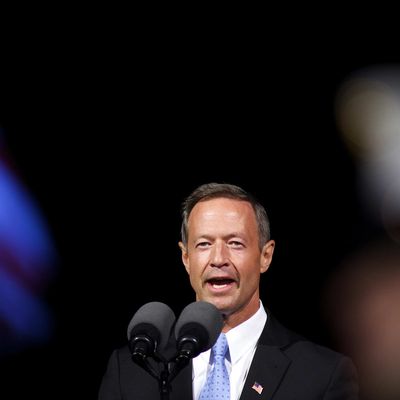 Photo: Mark Makela/2014 Getty Images
On Friday night, 200 of New Hampshire's most dedicated liberals arrived in the ballroom of a Residence Inn for the Portsmouth Democrats' annual dinner.
It was local politicking at its finest, lubricated by a cash bar making big pours. There was the gentle ribbing of Maine, a yarn about the ribbon cutting at a new bridge, and an appreciation of Market Basket grocery stores. Governor Maggie Hassan talked budgets and health care. Senator Jeanne Shaheen's husband described his wife's opponent, Scott Brown, as being "a couple sandwiches short of a picnic." 
But two hours in, the topic of discussion lurched south. The lights dimmed and a video came on. It told of the Baltimore of The Wire, the drugs, the deaths, the cops, and the racial strife. (The servers kept clearing dishes.) Then, it told of Baltimore's turnaround and Maryland's broader success. "No. 1 in education, five years in a row," the narrator boomed. "No. 1 in research and development. No. 1 in median family income, with a certain public official named No. 1 in the nation."
That certain public official is Martin O'Malley — Maryland's governor, an Obama surrogate, a rising party star, and as sure a contender for the 2016 Democratic presidential primary as there is at this early stage. He beamed from the podium as the crowd stood to applaud. "You all fired up?" he asked. And they were fired up, as well as curious and skeptical. Who was O'Malley? What was he doing there?
The video did a good job of answering the first question: Martin Joseph O'Malley is a family man, the former mayor of Baltimore, and the current executive of the state boasting the richest middle class in the nation. And nobody really needed an answer to the second. What is any ambitious out-of-state politician doing in New Hampshire two years before a presidential election? 
Introducing himself might be the politic way of putting it, as O'Malley has lofty ambitions but a thin national profile, in spite of his surrogacy for Obama, speeches at major Democratic events, and general enthusiasm for getting out and beating the drum. "He's got the basics going for him," said one commercial real-estate broker, who said he had not heard of O'Malley before the event. "He's tall, dark, and handsome." 
Of course, as an official matter, O'Malley had traveled to New England to help his fellow Democrats raise money and get elected. Before speaking at the dinner, he stopped for selfies at a local campaign center and gripped-and-grinned at an event for Martha Fuller Clark, a state senator running for re-election.
"When I was looking over all the things they wanted me to say about you …" Clark said as she introduced O'Malley to a gathered crowd.
"Those are things that Governor Hassan asked you to say about me?" O'Malley quickly interjected, chuckling.
"Of course!" Clark said, before praising his liberal bona fides and getting him to sign a photograph of the two of them.
Over the past few months, O'Malley has also visited Wisconsin and Nevada and Massachusetts and Iowa and Illinois and South Carolina and on and on. He has held fundraisers for out-of-state politicians. He has sent employees from his political action committee out to assist in other campaigns. After this most recent New Hampshire stop, he headed to Nevada and California, hitting three states in as many days.
"It is always helpful at a state party dinner to bring in people from out of state, who are people who might help you sell tickets," O'Malley told me as he nursed a beer after the event. "There are in these circles of the party a fair number of people that know of me a little bit and are curious to hear what I have to say."
But all that good soldiering might also help O'Malley build an army one day, as it exposes him to thousands of party apparatchiks and tens of thousands more likely primary voters. He is not coy about the fact that is seriously contemplating a 2016 run.
His tour has "reinforced the hunch I had that people want to hear a new perspective, that they want to hear from new leaders," O'Malley told me. "I think that reality is very much out there." To translate, "I am not Hillary Clinton. I am not Joe Biden. I am fresh. I am different."
He went on: "I think they want to hear from leaders that can solve problems and get things done and achieve results. They see it all the time in their local government, but it seems so elusive nationally." To translate again, "I am not Barack Obama. I have passed bipartisan legislation, and worked with Democrats and Republicans to get things done."
But what of the hyperpolarized, deep-frozen Congress? How would any executive work with that institution? "The problem isn't what the other guy is doing to you," O'Malley said, describing a pep talk a coach gave a prizefighter after a particularly bruising bout. "The problem is what you're not doing for yourself." He worried that Democrats had neglected down-ballot races, and had lost some party cohesiveness. 
In other words, "I am not Barack Obama, who has notoriously frosty relations with many Hill Democrats. I am a true uniter, within the party and between the parties."
Squint enough and you see the beginning of a primary platform in between the lines there — even as O'Malley, a party loyalist, studiously avoids criticism of the current administration and generally, like a good prizefighter, parries, floats, and weaves.
Most important for O'Malley might be his record in Maryland, where he has served as governor since 2007. Within the state, O'Malley is well-known as an aspirant, but also as a manager, a wonk interested in getting his hands into the guts of government. He likes measuring, cutting, trimming, and making more efficient. (As an excellent Washington Monthly story on O'Malley-as-manager notes, those tend to be the characteristics of a good vice president, too.)
Of course, there are many, many months before those outlines would need to become bullet points. In the meantime, O'Malley's tour also serves a more prosaic purpose, of building name recognition and a national brand. In one recent poll, for instance, O'Malley got 1 percent of the New Hampshire Democratic primary vote, versus Clinton's 60 percent, Elizabeth Warren's 11 percent, Biden's 8 percent, and Bernie Sanders's 7 percent. That probably reflects familiarity as much as anything else.
So we might be hearing a lot more about the bloody streets of Baltimore and median income in Maryland in the coming months. It would not surprise anyone in this sleepy corner of New Hampshire. After O'Malley's speech, Ray Buckley, the chair of the New Hampshire Democratic Party, handed him a book titled Outtastatahs, a guide for, well, out-of-staters.
"I assume you might be here more," he said. "Check it out."