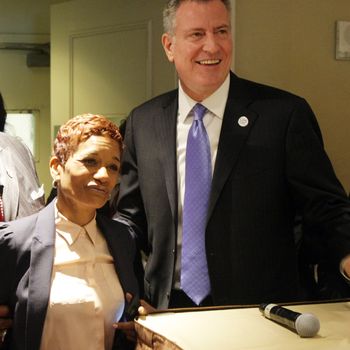 Noerdlinger and Mayor de Blasio.
On Thursday afternoon, DNAinfo reported that senior de Blasio administration aide Rachel Noerdlinger's longtime boyfriend, 36-year-old Hassaun McFarlan, has a fairly lengthy criminal record. According to records obtained by DNAinfo, McFarlan has served time in prison for drug trafficking and manslaughter. (The latter conviction was the result of a then-teenaged McFarlan shooting another boy over a jacket in 1993.) More recently, in November 2013, he was arrested for using Noerdlinger's Mercedes to "elude" a New Jersey cop who had ordered him to remain at the scene of a car accident. (He later pleaded guilty to a reduced charge of disorderly conduct.) McFarlan has also posted several (since-deleted) rants about the police (or "pigs") to his Facebook page. As you can imagine, certain people are unhappy about Noerdlinger's choice of partner, especially because she regularly liaises with the NYPD in her capacity as Chirlane McCray's chief-of-staff. 
In light of DNAinfo's report, police union head Pat Lynch said Noerdlinger shouldn't be working for the mayor. "New York City police officers are not allowed to associate with known criminals. If we are, we get disciplined, and we should." He added, "The hateful language [McFarlan] uses on websites toward police officers, what kind of guidance is this staff member giving the mayor and the first lady?"
Of course, Noerdlinger isn't a cop, so she's not obligated to follow their industry rules. And her boss, de Blasio, apparently believes that she is, you know, her own person. (A New York Post source says that Noerdlinger has always been "candid" about McFarlan's background, and her lawyer was sure to tell NBC New York that she "doesn't share all of [McFarlan's] opinions.") "I have full faith in Rachel," he told reporters on Friday. "You don't fire people because of something their boyfriend said. That's ludicrous and again, I have absolute faith in her … She's very dedicated to the work of bringing police and community together and that's what we care about." Now if only he had extended similar courtesy to Lis Smith.